Getting Social Support In A Tough Niche: Senior Care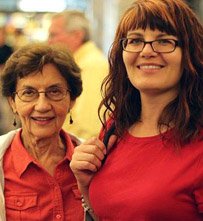 Summary: One of my biggest sources of joy and reward, as well as frustration, has been with the social-networking scene in the senior care industry. Most assisted living or senior care businesses don't participate much, or at all on Facebook, Google+ or Twitter. When they do, it's often all about them, and very self-centered. I discuss why social networking in the senior care space is thin, why it's important to participate and engage, and my suggestions on how we can improve everyone's social experience in our industry.
Did you know that there are over a dozen social-networking or virtual communities with over 100 million users each? If you have a business, and you aren't participating – you should be…today!
I have a friend who runs a photography site. He's good at it, but he is not a professional by any means. He is passionate about what he does, and has a good website.
Over the past few years, he has amassed about 40,000 youtube followers, thousands of folks circled on G+, and has a robust and active facebook page.
I tease him that he could (in all seriousness) write a post, or create a video about the grass growing, and immediately get several hundred likes, or a few thousand 'views.'
Literally, anything the guy does, he gets a huge boost on the social media front.
Photography folks are apparently quite savvy, socially plugged in, and ready and excited to support each other through the various social networks. It's made a difference for my friend, as I watch his site grow steadily every month.
It's quite a different scene here in our Senior Care Niche. In the 7 or so years I have been doing this, it's been my experience, and observation that folks interested in assisted living or other forms of senior care are not-so-savvy, in general, and could not care less about increasing the number of bytes funneling through the social networking fibers. I have thought about, and studied this quite a bit over the years, and it's not just me. I am hard pressed to find any site in this space that has an active social presence (that they haven't paid for, which you can do) based on people interested on what we do.
It's like pulling an impacted tooth to get people to participate socially, with one exception, which I will explain in a bit.
Why social support is lacking in the senior care space:
Take note of the small stuff. It's important!
1) Often times, the search for assisted living or memory care is a one-time thing. It isn't people's 'passion' – rather, it is something they want to do, get through and forget about as soon as possible so they can resume their lives.
1Unlike photography, or perhaps something like antiquing, senior care is usually not a hobby or a lifestyle. Photographers, for example, are always interested in the new gadget or tip, and will follow experts online and hang on their every word and breath.
I've noticed that other markets like the property rental market are also hard to get social support in. Again, finding a property is usually a one-time thing, or once-in-a-long time deal. You do it, and then move on with your life.
2) Seniors, for better or for worse, are not generally, or historically a tech-savvy group. When I mention things like Google+ or facebooking to my parents (in their 70's) or any one of my neighbors who are of 'senior status' I am often greeted with a blank stare, followed by a quick subject changer.
Although many seniors are becoming quite adept at operating a computer, emailing and sharing photos with their grandchildren, most of them don't care to make the time to learn about "circling" "liking" or "friending." They would still prefer to write a letter, using pen and paper.
3) The senior care industry is incredibly competitive, and thus, I believe, has become quite narcissistic and self-centered. Most of the companies and business entities that I see participating on social sites like facebook and google+ are almost always posting and evangelizing their own stuff. Rarely do they share other people's work, or comment on it. This, to me, is really annoying and counter-productive.
There's one group, however, that seems to participate more in social networking within the senior care niche – caregivers!
I'm not referring to paid caregivers, or those who work within an assisted living facility. I am talking about those folks – usually 'sandwich generation-ers' who have been thrust into caring for a mom, dad or relative who has been diagnosed with Alzheimer's, or who is not able to care for themselves any more.
These are the folks who are out there, sharing information, commenting on posts, and engaging with each other. These are the folks who are 'newly passionate' about being a caregiver, and looking for confirmation that they are not alone in their struggles and situation. For this, I am encouraged, and not completely turned off by the otherwise lack of social participation that occurs within our niche.
It's important for all of us to participate, share and engage.
I understand the need, now more than ever, to develop a social presence to support my assisted living site, and it' presence on the internet. My reasons, which are shared by many other successful social networkers are:
1) Social networking and engaging helps to build, and reinforce my brand. If someone comes to my site, and has seen my site's name before, they'll likely stick around, or share what I have to offer.
2) Trust and credibility. The more I network with, and engage with other professionals, the more social support, likes, circles and tweets I will acquire (in a perfect world), giving my site more credibility and trustworthiness. Social signals are like votes, or approval that what you are offering has value and usefulness.
3) It's fun. I have really started to enjoy reaching out to people (especially on Google+, which is the newcomer on the block) and making interesting connections, and learning new things about my industry. I have even started learning about Pinterest, and posting some of my site's photos there, and creating boards relevant to assisted living and aging topics!
4) Support for your main website. Search engines are starting to rely more heavily on these social profiles and signals to value and rank websites. Google, in certain terms, has said as much. If you aren't doing the social thing, you might end up not doing much of anything!
My Plea To My Colleagues In The Senior Care and Assisted Living Industries:
I am a sharer, liker, and circler. I am generous with sharing your stuff, and will be a supporter of you – competitor or not – as long as you are interesting, and so long as you do the same for others…not just me. Assisted Living Directory encourages community, sharing information, learning new things, and supporting others who can provide 'value-add' to what we do.
If you aren't already, I encourage you to:
Get online. Daily.
Develop engaging and active social profiles to support your business. Nobody will hang around a ghost town.
Share your stuff, but not **just** your stuff. If you see something interesting by another site, colleague or expert – pay it forward!
Like if you like!
Circle great people and businesses
Interact with colleagues daily through commenting
And lastly, follow people who are doing well at it, and learn from the experts. Here are a few folks worth mentioning that you can learn a lot from:
Guy Kawasaki – he has written a great book called "What the Plus" about how to maximize your social experience with google. Look at how many followers he has, and you'll understand why he is an expert.
Amanda Collins – For someone who I believe knows how to make the most out of social networking on google, and who is in a niche that I believe can be a bit challenging for support, she has made a very successful profile, and has amassed a large following.
Lotus Carroll – This gal is a photographer, and has well over a million followers. She has a knack for posting captivating photos, with interesting captions.
64 Marketing and Branding Tips – from Jeff Bulla – awesome tips and article including an excellent infographic with branding strategies.
Dave Dugdale – He is my friend who could make grass growing interesting through his video skills, and who gets incredible support socially (especially on Youtube) from his efforts.
10 Experts Discuss How To Leverage Google+ For Your Business
Assisted Living Directory on Google+ – We'd like to think that in the short time we have been active, we are doing a decent job! There's still more to learn, but that is part of the fun!
We hope to see more of you! It's so much fun and endlessly rewarding when there is active participation!We look forward to sharing with you down the road.