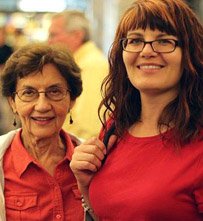 Summary: Written from the perspective of a Gen-Xer who grew up with a mother who was also a caregiver to the author's grandmother, and what the author gained from the experience.
Author: Regina Woodard exclusively for Assisted Living Directory
Regina is a contributor for Assisted Living Directory
The Sandwich Generation From a KidPoint of View
Therebeen a lot of talk about the sandwich generation, namely those baby boomers who are in the midst of taking care of both children and parents. The phrase was coined in 1981 by Dorothy Miller, who used it to describe the increasing number of women who were in their 30s and 40s who were taking care of young children, spouses, employers, and aging parents; this phrase has now morphed to those in their fifties and beyond.The Sandwich Generation from Kid's Perspective
Thanks in part to the Great Recession, Boomerang Kids now make up 25% of those who live back with their parents, who are also helping to take care of their grandparents.
Born in 1979, I had never heard of this term until just recently, but I have come to understand that I was a part of this generation. From the time I was born until I moved out of the house, I was at the younger end of this sandwich generation; I lived with my mother and my grandmother. My mom was a full time nurse at two of the local hospitals in my hometown and while she was out, my grandmother watched me.
November is National Family Caregiver month and as I thought about and read articles in regards to this, it dawned on me that I was not only a product of the sandwich generation, but that my mother was a caregiver. My mother is a baby boomer, born in later 1945, while my grandmother is a part of the senior population; me, Im a Generation Xer, remembering the days when computers werent home appliances, when Al Gore invented the Internet, and before some kid in college invented Facebook.
Therea lot to be said for being on the younger end of this sandwiched generation as a kid, I only had to worry about making sure I got my homework done and which shows I needed to watch on Saturday morning. However, even as a child, there are a lot of stresses to be had when youre the main family caregiver and the breadwinner. My mom was a single parent, as was my grandmother, and Id like to think that, as an only child, I was easy to handle.
As anyone who has ever worked in a hospital will tell you, nurses and doctors have pretty stressful jobs; typical eight-hour shifts can get extended when dealing with patients, schedules get switched and turned around, etc. My moman RN and would usually shift from that of the newborn ward to that of surgery and recovery, taking care of minor scrapes like broken legs to that of broken hips. In terms of my grandmother, she had her own issues a slip in the tub and a fall one year caused minor surgery for her hip and some minor surgery on her back.
It wasnt uncommon for my mom to take my grandmother to the doctoron a regular basis and added to that my own childhood issues ranging from the normal cold to bronchitis that got progressively worse until I reached college.
My mother really was the proverbial taxi, not to mention mediator, as my grandmother and I do not get along, plus trying to be parent to both a child and an adult. I was and have always been involved in extracurricular activities, mostly in fine arts. Ive been in choir, drama, orchestra, and band and with that comes instrument rentals (and purchases), plays, and concerts; Im sure I made her happy by not being in sports, despite my love of baseball. My grandmother had health issues that increased as I grew up; to this day, Im convinced she has hearing loss with the way she kept her TV up all day long. Not that I can say anything as Im convinced Ill be deaf in a few more years myself.
There is some good from this experience of mine. This of course is completely different, Im sure, from those caregivers who are actually giving care and those who are being cared for, but this is what Ive taken away from the experience
Independence
While probably based on my being an only child, I do have to say that I gained a lot of independence having my mother as a caregiver. I grew up to be fairly responsible I could be left in the house by myself at a young age, usually due to the fact that my grandmother had a doctorappointment and my mom had to drive her there. In most cases, she could do this and still be home in time for me to have come home from school, but in other cases, I was tasked to come home, use my key, and take care of myself until they returned.
Tolerance</p>
Letface it there are generation gaps when dealing with a sandwich family, usually three. I of course lived through the days before the interconnectability of the Facebook and the Twitter, even though the Internet was really in swing when I hit college in 1997. But before all of this, I learned how to tolerate and be accepting of others.
My grandmother comes from a generation in which blacks were second-class citizens, where we were kinda equal, but definitely separate. Im of the generation that the Civil Rights movement fought for, where hate crimes are prosecuted and the world is a better place. This was probably one of the reasons we clashed.
I am not of a world where doctors are out to experiment on me or where I cannot be in a class with white, Hispanic, and Asian friends. My grandmother is not of a world where Im more connected with people through an invisible force known as the Internet or where my communication is based on email, texts, or social media.
My mother, I now realized, tried to be a balance between us and in no way did she succeed.
At this point, I dont know if Ill be in a position of repeating this process where I am taking care of children and my parent at the same time. Certainly, with me out of state, that process could pose a problem as to how to work this should this happen. With that said, there are benefits to this whole situation, but downfalls too, especially for the person caught in the middle. I lucked out for the most part and I can only guess that my grandmother lucked out by having a home field advantage in being taken care of.
My mom? Not so sure on that.
So on this Family Caregiverawareness month, help the man/woman in the middle give them the month off.
Copyright by Regina Woodard
– Article by Regina Woodard exclusively for Assisted Living Directory