Expert Help...If You Need It!
1-877-616-7329


Assisted Living Directory
has been in service for over
11 years
! Learn how
Our Site is Different!
Learn something new today in
Assisted Living Directory's Blog!
Learn About Minnesota's Assisted Living Regulations - & How To Get a Copy!
Find Assisted Living Using Trusted State Resources - Statewide for Minnesota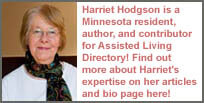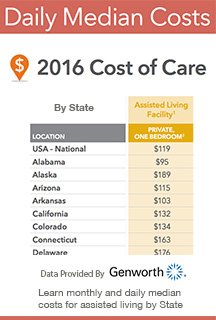 Minnesota Department of Health
Website - The Minnesota Department of Health is seeing the effects of a 'government shutdown' and as of this writing, they are not updating it with new information until further notice. However, their website still contains many good pages with helpful information for seniors looking for long-term care or assisted living in the State of Minnesota.
Elder Abuse:
Report suspected abuse by calling 800-677-1116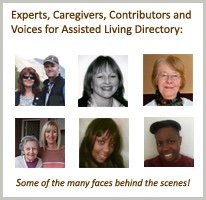 Ask A Question!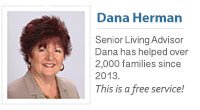 (866) 333-6550
Who we work with & why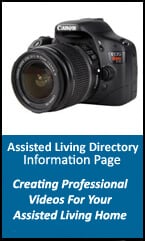 Popular Help Pages:
Facility Questionnaire - A Printable (.pdf) of Important Questions To Ask Facilities
Assisted Living Definition & Description [Video]
Sanitation In Facilities - Regulations, Staff Training and Reporting
Assisted Living Tidbits
One of the things I was trained to do years ago while working in the hospitality industry is to always pay attention to the small details. They are so important, and they do tell volumes about how any business is managed. The assisted living industry is no different.
What does it potentially say about a facility that has wilted flowers on the tables, and perhaps garbage in the main entryway of the facility? Does that mean that the kitchen is also in the same, neglected state? Another example that we have seen that has potentially serious implications is when the facility misspells marketing materials, like a brochure, or an online ad. The implication being that if they can't take the time to do a spellcheck, are they going to take the time to make sure your mother, who has Alzheimer's, gets the correct medication at the correct time?
Details are important. I used to have a boss who, at the busiest time of day would ask me to 'take a walk' with him to go find burned out light bulbs. I am convinced that he chose the busiest, most hectic time of day for me so that I would eventually become trained to see those types of things regardless of how many other things were demanding my attention.
As you tour an assisted living facility, take the time to look around and notice the 'details' of the facility - good and bad. A fresh vase of flowers on the dining room table can tell you a lot about the facility!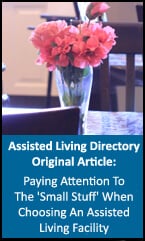 Don't be fooled by the Questionable Tactics used by many assisted living sites

Assisted Living Directory has a No Spam Guarantee!