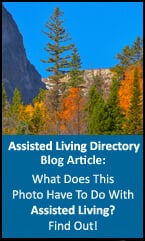 Interesting questions we have received about New Dawn Memory and assisted living -
Q: I wanted to find out if you accept Medical and social security, and do you provide a lock down unit for people in need of memory care?
**A great question to ask. Lock down units can prevent issues like Wandering with residents who have Alzheimer's or other memory disorders. - ALD
Q: Can you please send me a sheet on the cost for your New Dawn facility? - Shari
***Some people still like to have 'paper in hand' over seeing it on a computer! - ALD
Q: I am an LPN and am interested in working for New Dawn. I am currently an Assisted Living Manager and am seeking to be a staff nurse working 12 hour shifts. May I send my application to you.
Thank You for your time. - Pam
***Assisted Living Directory has put together a page on getting an LPN or caregiving job that may offer some useful tips!
Q: Do you have a private room available? is the facility locked so residence cannot leave on their own? furnished or unfurnished? 90 yr old stepmom, confused but not dementia diagnosis. - Deb
Q: Hello New Dawn Care:
I am the daughter of a senior who is looking for an assisted living environment. She has been approved for ALTCS. If you do take ALTCS and can answer some questions. If you do not take ALTCS please disregard this message. Thank you for your assistance in this matter.
- Kim - Daughter of potential resident
Q: How many residents do you accommodate?
Do residents have their own bathroom?
Costs? - Darla
Don't be fooled by the Questionable Tactics used by many assisted living sites

Assisted Living Directory has a No Spam Guarantee!