Elderly Waivers in the Land of 10,000 Lakes
Minnesota, the land of ten thousand lakes! Inspiring the works of Laura Ingalls Wilder, Sinclair Lewis, and of course, Garrison Keillor, Minnesota is home to arts, culture, and good old bread and butter.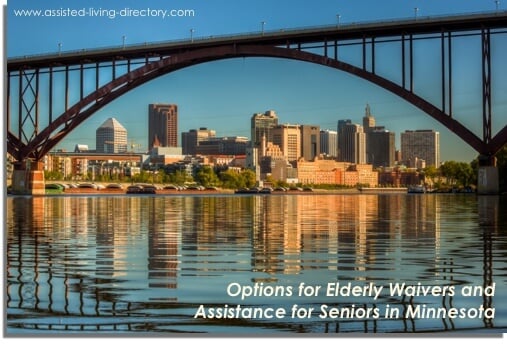 As with many states in the US, Minnesota's senior population is expected to double over the next twenty five years to that of 1.3 million, eclipsing those who are school age by the year 2020. This of course, is a huge increase from about a decade ago, where the senior population in the state was around 623,000 residents in 2005.
The next year, the baby boomer generation began to turn 60. With the prospect of a large aging population, the state of Minnesota has set up several programs and projects in order to address the needs and questions that many seniors and their families may have concerning assisted living or retirement facilities.
One such program is that of the Elderly Waiver, which funds home and community based services those residents 65 or older. The program is operated by the Department of Human Services and provide services such as home health aide, personal care assistant, home delivered meals, adult day care, home modifications, and more.
The EW also gives residents the option for letting the state manage their care or by using the Consumer Directed Community Support for self-directed care.
To be eligible for the waiver, individuals need to be age 65 or older, eligible for medical assistance, and need nursing level home care. To find out more information, contact the Senior LinkAge Line (1-800-333-2433), which is a free service and call for residents.
Elderly Waiver Program

Consumer Directed Community Supports
The Consumer Directed Community Supports, or CDCS, is a program that allows for individuals to decide who provides their help, the type of financial help, when care will be provided, and how much responsibility that person wants. This program gives the individuals the ability to keep their freedom of choice when it comes to staying within the home or community.
The Senior LinkAge Line can provide you or your family more information.
A healthy diet and balanced nutrition is important to everyone, but especially elderly residents. The Senior Nutrition Program helps to provide nutritionally balanced meals, social contact, and volunteer opportunities for those older residents within the states. Along with the meals, activities and special events that discuss health and nutrition are also provided to those who are 60 years of age or older and their spouse are able to attend these showings.
As with the EW and CDCS, interested parties can contact the Senior LinkAge Line for more information.
While a not singular program, the PCA Service Program is actually made up of several different categories which allow individuals to hire a personal care assistant or PCA. Like the CDCS, individuals are given the choice of flexibility in hiring their choice of help for daily living activities and these PCAs are paid for their service. This means that if an individual has a family member, friend, or neighbor acting as a caregiver, they can be hired as a PCA, essentially being paid to be a caregiver.
Under the program, adult children who are caregivers to their parents are eligible for the program, however spouses or legal guardians are not.
To be eligible for the PCA Service program, a resident must be enrolled in one of the partnered programs – the Minnesota Medicaid/Medical Assistance program, which helps lower income individuals with their medical bills, the Elderly Waiver Program, the Minnesota Alternative Care, or one of the Minnesota Managed Care programs, like Senior Health or Disability Health Options.
The Minnesota Alternative Care program, or AC, helps seniors who are at risk for being placed in a nursing home the ability to remain in their home or that of a caregiver. The AC program provides care and non-care support and services to both individuals and their caregivers as a self-directing option and is intended to reduce Medicaid placements for nursing homes; the program provides personal care, respite, transportation assistance, and home meal delivery.
This program, along with the CDCS, offer the ability for adult children to be hired and paid to care for their aging parent. An added benefit of the program, the AC will also pay for home modifications that help to increase accessibility or safety of a home, such as a wheelchair ramp or handicap accessible walk in tub. To be eligible for the AC, individuals must be aged 65 or older, have the need for nursing home care, and be unable to receive Minnesota Medicaid; assets and income must be inadequate to pay for a nursing facility more than four and a half month.
Minnesotans needn't worry about care for their senior population, as the state has made sure to provide services for their elderly citizens. There are several different options for seniors and their families to explore so that seniors get the care they need, as well as having the options of remaining in their home should they choose.
For more information on any and all the programs listed, individuals should speak with their representative with the Senior LinkAge Line.
Minnesota Alternative Care

Join our Google+ Community & Discussion Group!
Learn More
Further Information
Senior LinkAge Line for Minnesota: 1-800-333-2433
Minnesota PCA Service Program

Copyright © by Regina Woodard
- Article by Regina Woodard exclusively for Assisted Living Directory