Additional Senior Care Options for Lincoln
Join our Google+ Community & Discussion Group!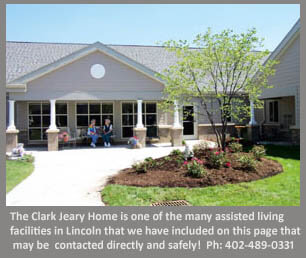 Helpful Tip: We love the digital age we live in! Did you know that you can see a current exterior 'street view photo' of any address in the US - including assisted living facilities? So, if a facility doesn't have a website, or 'official' photos online yet, you can use google maps to get an idea of what the facility or home looks like!~
Clark Jeary Retirement Community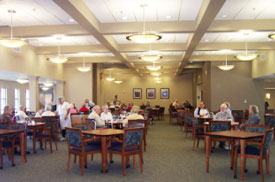 8401 South 33rd Street
Lincoln, NE 68516
(402) 489-0331


...independent and assisted living one and two bedroom apartments.
Website

Country House
Assisted Living and Memory Care facility in Lincoln - Video Tour
Eastmont Towers Community
6315 O Street
Lincoln, NE 68510
(402) 489-6591


An independent, not-for-profit continuing care community
Map

Gateway Senior Living
225 North 56th Street
Lincoln, NE 68504
(402) 464-6371
**An award-winning senior campus!
Map

Independence House

5500 South Coddington Avenue
Lincoln, NE 68523
(402) 420-0329


"Lincoln's Source for Quality Memory and Dementia Care."
Residential living in a family-style setting with all the comforts of home
Website

Orchard Park Retirement Community
3110 S 48th Street
Lincoln, NE 68506
(402) 488-8191
Map

The Landing at Williamsburg Village
3500 Faulkner Drive
Lincoln, NE 68516
(402) 420-9355
Map

The Lexington Assisted Living Center

Lincoln, NE 68506
(402) 486-4400
"The Lexington has 98 apartments consisting of 94 one-bedroom and 4 two-bedroom units. Our community is staffed 24 hours a day every day."
Website

The Legacy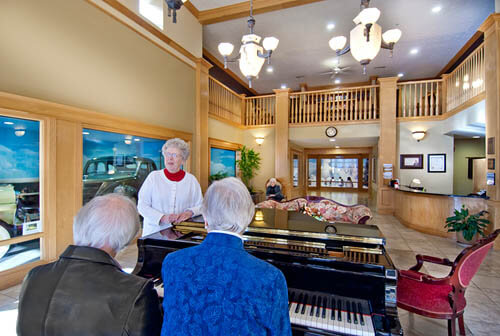 5600 Pioneers Boulevard
Lincoln, Nebraska 68506
(402) 436-3000


4 communities in Lincoln including assisted living and memory care!
Website
The Waterford At Williamsburg
3940 Pine Lake Road
Lincoln, NE 68516
(402) 423-0000


Assisted Living and Memory Care - 3 locations in Lincoln!
Website

Windcrest Assisted Living
7208 Van Dorn Street
Lincoln, NE 68506
(402) 486-0011
Support Services:



24-hour staffing


Care plans tailored to individual needs


Regular personal care assessments


Medication reminders


Medication administration


Medication management


Escort and transfer assistance


Additional housekeeping and laundry


Bathing, dressing and grooming assistance


Incontinence care


Standby shower assistance


Early stage or mild dementia care


Exercise programs


Wellness, walking, balance and exercise classes


Recreation and entertainment programming


Access to a choice of home health agencies
2

4-hour access to licensed nurses


Wander Guard System
Website

Additional Support
* Looking for More? See our tutorial on how to research assisted living facilities in Nebraska and Lincoln using the Nebraska Resource and Referral System website (a state resource).This is a great, trustworthy way to research facilities, or to verify information you have found elsewhere!
Hi everyone - this is David, I'm the founder & editor for Assisted Living Directory.

We work with a highly experienced group of senior care consultants that are available to help you - at no cost.

These great folks helped me with my own assisted living search for a loved one a few years ago.

You can read about my experience using this service in our blog.

These great advisors can help with simple questions, or complex issues or specialized needs, on a personal, 1:1 level.

They will, undoubtedly, prove to be a great source of help to you, and time/hassle saver - to help you to find the absolute best assisted living or memory care option in Lincoln, or Lancaster county based on YOUR needs, budget and situation.

Assisted Living Facilities, Senior and Long Term Care in Lincoln, Nebraska (NE)