Caregivers are incredible people. Being cared for at home has certain advantages for the elderly, including better quality of life. However, caregiving is not always so kind to those who are doing the work.
Not only do you face major adjustments in your lifestyle, you are constantly under pressure from people who aren't there to see how hard your job is. Caregiver burnout is a probability more than just a possibility. This is especially true when most of the workload falls on one person.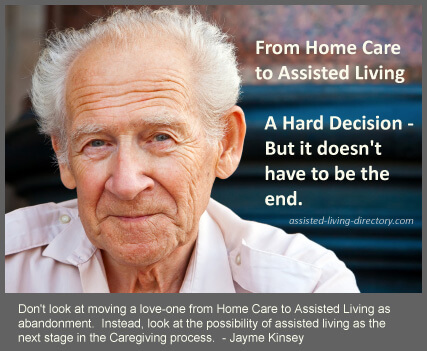 Even though caregivers are at an increased risk for health problems and depression, you may feel like you are giving up on your loved one if you even consider an assisted living facility. These feelings may be further influenced by family members and health care providers.
Family members, especially those not actively involved in the caregiving process, may criticize you for suggesting a facility. Doctors may warn you that placing your loved one in a nursing home or assisted living community may shorten their life.
As a caregiver, you may suddenly feel like everyone expects you to martyr yourself. These expectations can be unreasonable. Considering moving your loved one to a care facility does not make you weak. It means that as a caregiver, you are considering the well-being of your loved one objectively.
Knowing When the Time Is Right
Even when a caregiver is determined to provide quality care at home, there comes a time when the situation may need to be re-evaluated. When your loved one refuses or resents any help but yours you may feel trapped and alone in your position. This extra stress can lead caregivers to experience apathy, which in turn can compromise the quality of care provided.
It might be time to consider assisted living when:

Supervision is required on a 24 hour basis

You become distracted or forgetful when performing caregiver tasks

Family or marital relations become strained

You experience depression or other health issues

You no longer have time to look after your own health or well-being

Your loved one refuses care from anyone but you
An assisted living facility still offers a home-like setting in which your loved one can enjoy a reasonable and safe amount of independence. However, rather than the burden of care being placed on one person, an entire staff is present at all times to see to their needs. A good facility offers social events and encourages participation in various activities.
Rather than feeling guilty about considering a facility, you should ask yourself these questions:

Would Mom be safer in a facility?

Is Dad thriving at home, or merely existing?

Would Mom and Dad benefit from social activities?

Is Mom or Dad really happy at home with me?

Can I do this for several more years?
These questions can be difficult to answer. To get a better idea of what it might like to make the transition, research a few facilities in your area. Talk to the residents as well as to the staff. If you find a facility that looks promising, take your loved one on a tour as well. Take notes of all the pros and cons of each facility.
Consider some of these questions:

Will your loved one have to be separated from a beloved pet?

Will they be able to take personal items such as their favorite pictures and decorations?

Will the facility be easy to navigate even if your loved one has physical or cognitive disabilities?

Will they be encouraged (not forced) to engage in social activities?

Will they be able to leave in the company of family members for holidays or outings whenever they like?
*Is the care provided a good match for your loved one's individual needs? Ask for a list of things that are and are not allowed. All facilities are different. For example, a local assisted living facility asks that only one small child come per visit, as the facility is very small. If your loved one enjoys the company of many visitors, this might not be a rule that they can adapt to.
It Doesn't Have to Be The End
Whether you have cared for your loved in your home, or just provided routine checks while they lived in their home, you have grown accustomed to being the person responsible.
You might feel that you are losing something important when you hand over than care. It isn't uncommon for caregivers to worry about the little things. Did you remember to pack Mom's favorite shirt? Did you tell the staff that Dad doesn't like tomatoes? Will your loved one be able to sleep late if they like? Will they notice when Mom needs to be cheered up?
These details are part of your life, and just because you have decided on an assisted living facility doesn't mean you can automatically stop being concerned.
Take a proactive stance and visit often. This is reassuring for your loved one too. Make sure that the staff knows that you are still a concerned caregiver. Too many families assume that the staff of care facilities can handle everything. While they can provide daily care needs, staff can never replace an elderly person's family.
By being honest with yourself about your needs and capabilities, as well as those of your loved one, both of you can approach the idea of an assisted living facility with a positive attitude.
Don't look at it as giving up on or abandoning your loved one. Instead, look at the possibility of assisted living as the next stage in the caregiving process. One which you have researched well to make sure it is the best option for everyone involved.
Copyright © 2013 by Jayme Kinsey

- Article by Jayme Kinsey exclusively for Assisted Living Directory