How To Learn Daily Rates for Assisted Living Facilities in Maryland

Learn About Maryland's Assisted Living Regulations
Learn About Maryland's Medicaid & Elderly Waivers
Using Maryland Access Point to Find Assisted Living
Our Top Advice for Anyone Searching For Assisted Living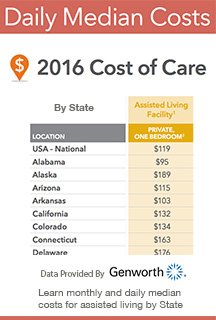 Levels of Care in Maryland:
Maryland classifies care into several categories: Level 1: Low Level of Care; Level 2: Moderate Level of Care; Level 3: High Level of Care and Level 3+: For Specific Patients.
Maryland Health Care Commission:
Guide to assisted living facilities website - MHCC is the state agency responsible for developing the Assisted Living Guide. Phone: 334.262.5523
Elder Abuse:
Report suspected abuse by calling 800-677-1116
Popular Help Pages:
Facility Questionnaire - A Printable (.pdf) of Important Questions To Ask Facilities
Assisted Living Definition & Description [Video]
Sanitation In Facilities - Regulations, Staff Training and Reporting
Great questions and comments that we have received about the Gabriel Home:
Q: How much monthly does your facility cost and do you take VA benefits at the Gabriel Home? - Nicole.
Q: am looking to transfer my mother from SC to MD and instead of a nursing home, I would prefer assisted living. She has been affected from a stroke and schizophrenia... do you accept both patients and is medicaid/medicare an option? - Tenesha
Q: How many patients do you have? What are their ages, ethnicities, and races? How many staff do you have? What are their ages, races, and ethnicities. - Cassandra
Don't be fooled by the Questionable Tactics used by many assisted living sites

Assisted Living Directory has a No Spam Guarantee!