Learn Facility Availability:
1-866-333-6550


Assisted Living Directory
has been in service for over
11 years
! Learn how
Our Site is Different!
Learn something new today in
Assisted Living Directory's Blog!

Learn about Georgia's Assisted Living Regulations - & How You Can Get A Copy!
How Georgia Defines Assisted Living - Each state can be quite different!
How To Maintain A Positive Attitude as a Caregiver - [Video]
A Recommended Senior Services Database for Georgia - Trustworthy & Statewide
Paying For Senior Care in Georgia using CCSP - A Medicaid Waiver Program
Get A Copy of the CCSP Brochure - In A Printable .PDF Format
What A Room In A Smaller Residential Care Home Looks Like - [Photos]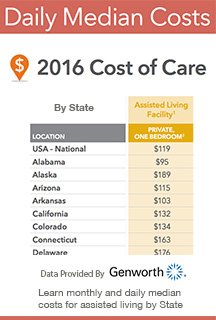 Assisted Living Association of Georgia (ALAG):
Phone: 770-489-1440
Elder Abuse:
Report suspected abuse by calling 800-677-1116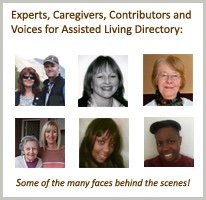 Ask A Question!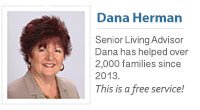 (866) 333-6550
Who we work with & why
Popular Help Pages:
Assisted Living Tidbits
Excellent questions we have received about assisted living, and Divine Connections - questions that may be helpful to families and individuals considering assisted living as a housing or long-term care option:
MY MOTHER GETS AROUND PRETTY WELL IN HER ELECTRIC WHEELCHAIR, BUT HOW WOULD SHE GET UP AND DOWN THE STAIRS I SEE IN YOUR PICTURES HERE?
Hi, could you please send me the cost information for your facility?
When private funds are gone Do you take medicare or medicaid? My mother has no home or car to sell. Edith is 89 years old with mild Alzheimer's.
Q: HI, MY NAME IS JUDITH WILLIAMS. IM LOOKING FOR AN ASSISTED LIVING FACILITY FOR MYSELF.IM DISABLED AND IM FORTY-THREE YEARS OLD, AND I LIVE IN NORCROSS, GA. I WOULD LIKE TO KNOW IF MY MEDICAID WILL COVER MY EXPENSES AS WELL AS MEALS. PLEASE SEND BROCHURE WITH MORE INFORMATION.
Q: Do you care for people with Dementia? And what are the costs for putting someone in your facility.
Q: What is the cost for a semi-private room in your assisted living unit?
Q: I am still fairly active and still have my car. I am on Medicare and Medicaid - do you take these? How far are you located from Monroe where my son lives? I am located in out-of-state at this time.
Q: I would like to know the cost of your facility for a private room for assisted living. Also can you tell me if you allow one small pet?
Q: I am currently seeking a professional and friendly staff for my 78 year old mom. She suffers from weakness in her legs from a mild stroke. - Stephanie
Q: Do you only service senior citizens or the elderly? Do you accept ICWP or the Medicaid Waiver as payment for services? - Shandra
Don't be fooled by the Questionable Tactics used by many assisted living sites

Assisted Living Directory has a No Spam Guarantee!