Learn Facility Availability:
1-877-616-7329


Assisted Living Directory
has been in service for over
11 years
! Learn how
Our Site is Different!
Texas Assisted Living Association (TALA):
"TALA members subscribe to a philosophy which offers cost-effective, safe, personalized and quality care; fosters resident independence and individuality; allows residents' choice of care and lifestyle; protects residents' rights to privacy; nurtures the spirit of residents with dignity and respect; and involves family, friends and the community." Website
Elder Abuse:
Report suspected abuse by calling 800-677-1116
Assisted Living Tidbits
Questions we have received about Collinfield House, and assisted living that may serve as helpful examples of the types of questions you might consider asking facilities that you are interested in:
What is your location and monthly fees or cost structure? Do you charge extra for level of care?
I am interested in finding more information about Collinfield. We are interested in a private room with private bath. My daughter and I are making plans for her father
I don't have time to be "shopping" for an assisted living facility at this time, however, we need to find one within the next 60 days or so. My mother in law is in an assisted living at this time, but we want to move her. She is at the lowest level of care, as she is one of the most alert persons at this facility, and can manage on her own without care. I would like a price on a private room, private bath. I am going to base where I go and visit upon attaining this information. Perhaps I can get a brochure? She is 88 yrs old.
Please email the answers to me vs phone. What is the availability and how many residents reside in the home? What skill level of care attends the clients? Is transportation available for Doctor appointments, and shopping? What are your rates for private and semi-private rooms, and bathrooms?
Q: Do you have 24 hour attendant available so that my father could be monitored while he goes to restroom during the night. He is ambulatory but a fall risk.
What are your rates? - Shelley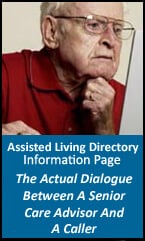 ---
Subscribe
Don't be fooled by the Questionable Tactics used by many assisted living sites
Assisted Living Directory has a No Spam Guarantee!