I am catching myself today sort of in a frenzy,
realizing that the holidays are quickly approaching, and that I still have a to do list that doesn't seem to be getting shorter. My wife and I have both commented that we are sensing the craziness of the holidays - the amped up-ness, the traffic, and the anxious, and irritable moods of our friends, co-workers, and even complete strangers.
We're trying to keep things in perspective, and not feed into it too much - especially, since our time to get stuff done is being cut short this year. We are preparing to leave for two weeks to go visit my wife's mother.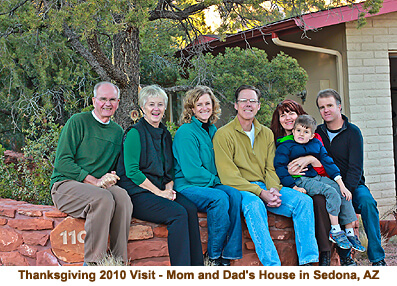 Traveling, and being away from home for such a long time can be stressful in and of itself. Doing it during the holiday season adds another degree of complication to the matter.
My wife and I are lucky, though - we like our parents! We just got back from seeing my parents at Thanksgiving. We decided to make it a road trip, instead of flying. The drive was wonderful - a time to relax, space-out, and reflect - much needed for two busy people like us.
My parents are doing great, they still live at home in a beautiful area of the Southwest. They are both in their 70's, and remain very active an engaged. Health-wise, I don't think they could be doing better - they look great, they are sharp, and they are in very good financial shape.
It was good to check in on them, and it is always great to find out that all is well with them!
My wife's mom - that's a bit of a different story. I've mentioned in another article on the site here that she has had some health issues recently. I haven't seen her in about 6 months, but in that time, her health has had some extreme ups and downs - fortunately, at the moment, it seems as if we are on an upswing.
Since we live over 1000 miles away from her, it isn't easy to check in on her in person - she lives alone in a house that she's had for over 50 years now, and although she has some good neighbors, they aren't in the habit of checking in on her as we would probably like, but then again, she really is independent, and I doubt that she has even told them about her health issues.
The only way we can get an idea of how she is doing is by her own word - and she can be stoic and tightlipped about things. She doesn't like to discuss her issues, and she doesn't like to propagate bad news....
So we are looking forward to the holiday with her in a different way than usual. Of course, we will celebrate the holiday, probably eat far too much - and catch up with what is going on in her life, her church, and with her job (yes, she still works - even at 80 years old! A senior by age, but more of a kid a heart!)
However, we will use the holiday to assess how she is really doing with her health, and managing her household. Hearing from someone is one thing, but seeing them in person tells a whole different story. This holiday trip will offer a good chance for us to make our own assessment.
I think this explains why our site sees such a spike in traffic in the few weeks right after the holidays - usually in late December and January - people are doing the same thing we are - checking in on mom and dad during their holiday visit.
We see a huge increase in searches for "assisted living" and "assisted living facilities" during this time. Obviously, many families at the holidays determine that mom or dad may need to consider alternative living arrangements such as assisted living or long term care.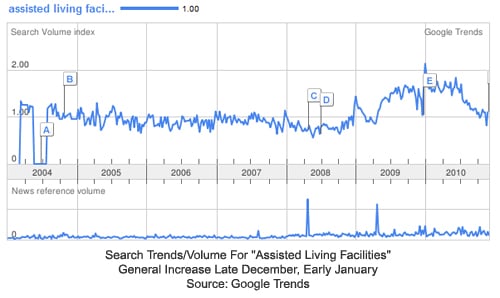 We hope this isn't the case this year for us, but at some point, it may happen - and I think we are all aware of that.
We encourage all people visiting mom or dad over the holidays to use the time as an opportunity to check in on mom and dad. If they are having trouble remembering things, or if their house is unkempt, or if they seem depressed, or look different (weight gain, or weight loss) - it may be a sign of a developing health issue. It also may be a strong nudge that mom or dad could benefit from an assisted living environment, to help manage the tasks of daily living, and to have someone monitor their health daily.
Checking in on mom and or dad shouldn't be weird, or a chore - and you can bet that they are most certainly going to check in on how you are doing! After all, you are still their child....no matter what age you are!
Join our Google+ Community & Discussion Group!