Assisted Living Tidbits
Some examples of great questions we have received about Central assisted living in Phoenix:
I need to relocate my mother on or about 4/1/11and am interested in learning more about your facility. Semi-private would be acceptable. Thanks!
Hello. I am looking for an assisted living home for my mother. She is 75, self administers her meds, but needs help with her shots. She is mentally alert and physically active. Likes to take walks and chat with friends. My job does not allow me to live here year round and I am uncomfortable being away for months at a time and leaving her in the house alone. Could you give me an idea of the costs involved and availability?
Q: I would lIke to know if you accept ALTCS as my mother has been approved and is in Hospice ...and does in fact need assistance with being in and out of bed, using a life to move her, I am out of state and am in need of healthy care for her. Please advise if you might be able to assist me in this process. - Beth
Q: Looking to relocate my father from current Assisted Living to something closer to our home. Do you have private rooms with private bathrooms? Do you accept ALTCS? - Barb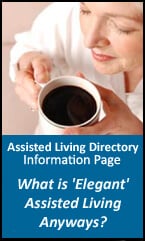 ---
Subscribe
Don't be fooled by the Questionable Tactics used by many assisted living sites
Assisted Living Directory has a No Spam Guarantee!