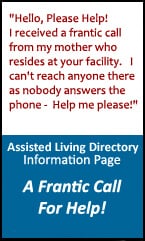 Interesting questions we have received from our site visitors about Cardinal Village and assisted living - these questions may serve as examples of the types of questions you might ask facilities you are considering:
I am interested in getting more info especially cost. Also, do you have a brochure?
Can you please email/or fax me an application for my mother to live at Cardinal?
Sandy, I am interested in the independent living residence for my mom and would like a tour.
Q: Does each separate secure living unit at Cardinal Village have it's own complete bathroom? shower or tub? - Sharon
Q: Do you take people as young as 52? - Staci
Q: What are the requirements for placement? Do you accept Medicaid recipients? - Annamarie
---
Subscribe
Don't be fooled by the Questionable Tactics used by many assisted living sites
Assisted Living Directory has a No Spam Guarantee!