Peoria is in a wonderfully unique position being a city that is close to the larger, urban offerings of Phoenix, but with a sense of being somewhat separated - a city of it's own character, amenities and offerings. Peoria currently has approximately 163,226 residents - of which 20,883 are over the age of 65. This number represents 13.7 percent of the population of Peoria - which is about 1.1 percent over our national average of 12.6 percent.
Peoria is a very attractive location for seniors and retirees who wish to live independently, or those who are wishing to live in an assisted living or long-term care environment. Peoria has much to offer in all of these areas!
In addition, the City of Peoria offers numerous Senior Adult Programs, many of which are based out of the Peoria Community Center. The Center is located at 8335 W. Jefferson Street in Peoria, and the phone number is (623) 773-7436.
Newsletters are a great way for cities and senior organizations to communicate to local seniors, and having a newsletter available for download online is even more effective, as those who are less mobile - living in an assisted living facility, for example - will be able to keep up with local senior happenings, events and services more easily.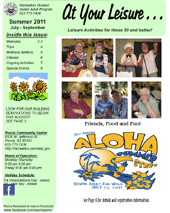 The City of Peoria's Community Services / Senior Adult Programs department offers an excellent quarterly newsletter "At Your Leisure" that is targeted to those seniors who are 50 and older. The newsletter offers valuable information about the Peoria Community Center, it's hours, and contact numbers. In addition, the newsletter includes a calendar of events detailing classes and activities for seniors at the center, as well as a calendar of the many exciting day trips available to seniors.
The Senior Adult Programs of Peoria also offers a Home Delivered Meals service that is targeted towards homebound seniors living in Peoria. For information on this service, please call (623) 979-3911.
Bowerhaven is an assisted living facility in Peoria, and is one of the many options for senior care and assisted living located within the city. For more information about Bowerhaven Assisted Living, please call 623 215-4737.
Great questions we have received about Bowerhaven assisted living and senior care - these questions may serve as helpful examples of the types of questions you might ask potential facilities:
Do you have experience with Alzheimer's patients, what is the skill set of the staff, is this a smoke free environment, what are the costs, do you take medicare or insurance plans, what are the visitation times, and do you have a trial period for service?
Don't be fooled by the Questionable Tactics used by many assisted living sites

Assisted Living Directory has a No Spam Guarantee!