An unfortunate, but real possibility in the assisted living industry is being faced with an involuntary discharge from the facility. Would you and your family be prepared for this?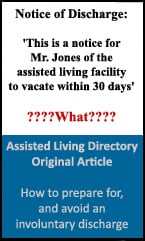 Discharges can happen for a number of reasons. Perhaps the resident is no longer able to pay for services, or perhaps the facility is no longer able to provide the level of care needed for the resident.
In any event, this can be an uprooting and unsettling event, and there is more than one point of view on this topic - the family's, and the facility's.
There are strategies that you can employ to help avoid any unwanted requests to vacate, and ways to prepare for it if you believe it may be a possibility. Among our recommendations, we encourage families to find out what the discharge policy is, in writing, at a given facility before signing any contracts, or moving in.
Great questions from our visitors about Arveda Alzheimer's Family Care and assisted living -
(These questions may serve as examples of the types of questions you and your family might ask your potential assisted living home):
I am looking for an assisted living facility for my 95 year old grandmother. She is still capable of doing most daily functions with minimal assistance. I am interested in knowing what type of security system your facility offers to keep residents from leaving on their own and if there are any available beds?
Do you accept a person on a NGRI outpatient commitment and with SSI pending (not currently active) and apply for benefits if accepted when placed at the facility? If not, who would be responsible to pay and how much is the monthly fee? Is a person able to leave the premises unaccompanied and are rooms semiprivate or private? If you are not able to consider this type of person please send any referrals if available.
This will be for my parents, is this a Medicaid Assisted living location? Do VA's receive a discount, and what is the cost per month? It is best to contact me via email.
I want to find out if you have a waiting list, and also what is the cost of Arveda assisted living. My mother is currently at Querencia and her Dr. told me to inquire about your facility.
I am wondering if your facility takes Medicaid for Alzheimer's patients. My mother is 90, has AD, but no other health issues other than poor hearing and poor eyesight.
My grandfather is 80 years old ad suffers from Dementia. He has been treated in Houston for the past few weeks and his doctors are ready for us to find a care facility such as yours. He has had some issues with wandering but since the adjustments to his meds, he has done very well. I was wondering what type of monthly charge a place such as yours would have? I will be paying out of pocket. I can have his case worker send his medical records if that would help.
What are your fees? Do you take Medicare? My mom is on limited income, just social security, she has Tricare insurance (retired military veteran).
Hello, I was wondering if your facility is "private pay" only or if you accept CBA/Medicaid patients? My mother has Alzheimer's and is already on the CBA program. Thank you.
My mom has Alzheimer's I am thinking of moving to Austin near my son and bringing my mom with me. I need to know more about your facility and how much it would cost. She has medicare and receives a monthly check.
Do you take current qualified medicaid residents/patients? My mother is in an assisted living facility in San Marcos and we are looking at having to possibly move her to a facility that deals more with Alzheimer's residents. She is medicaid qualified. Both of her sons live in the South Austin area so your location is not that far for us to travel to visit. If you do take medicaid patients/residents, can a tour of your facility be arranged?
Q: Do you accept Medicaid pending patients. My Grandfather will need a memory care facility in about 4 to 6 months. He has Lewy Bodies dementia and it is getting difficult for my grandmother to care for him. I work at Deer Creek Nursing in the business office and I will be doing the Medicaid application. They will qualify.
Thank you. - Dana
My mom and dad both need care, both have Alzheimer or dementia. Mom needs more help with personal care, walking, bathing, dressing, bathrooming. Do you have a place where they can remain together? They have been together since they were 14 years old. Thank you
My father-in-law has been diagnosed with Alzheimer's officially now and he seems to be deteriorating rapidly. He is 62 years old and my husband has had power-of-attorney over his affairs for a few years. I am trying to find a place for him to receive 24 hour care without feeling like a nursing home and thought of assisted living. He is a Veteran and I was hoping you could give me more information about pricing, timelines etc. Thank you for your time!
---
Subscribe
Don't be fooled  by the Questionable Tactics used by many assisted living sites
Assisted Living Directory has a No Spam Guarantee!