Find Assisted Living in Albany, New York - Certified Senior Care Advisors
Our certified consultants will help to identify your assisted living needs, and help you through every step of the process. Our Advisors have received their Certified Senior Advisor certification to earn their expertise in Albany, New York. Our service is 100% free to you!
---
3 Easy Steps In Finding The Best Senior Care In Your Area
Our Senior Care Consultants Will Perform:
Step One- The Assessment/Interview
Identify your loved one's care needs and preferences
Identify personal preferences/location
Identify hobbies and lifestyle preferences
identify budget preferences
Step Two- "Matching Needs & Preferences"
They will then "match" all the information from Step One and narrow down your options to 3 or 4 pre screened and CarePatrol approved care providers.
Step Three- Tour Our Recommendations
Our Senior Care Consultant can personally bring you to our recommendations for a tour (much like a realtor does) or if you would rather go by youself, we can arrange the details of your tour accordingly.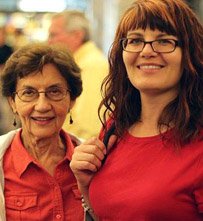 Cities like Albany are truly a joy to research when it comes to assisted living. There are so many wonderful places to turn for excellent, trustworthy facility information and support.
In our facilities section below, we've included a link to a Housing Options for Senior Adults guide, that is excellent and comprehensive.
This guide is free, and details the senior care and assisted living options in Albany and the capital region. It features important information like monthly costs/rents, facility size, special features, and so much more.
We've also listed facilities on this page - all may be contacted directly, and safely.
We also recommend becoming familiar with Albany County's Department on Aging - which also offers plentiful information for seniors and families in Albany. Intro byD. Besnette
866-981-5725Pricing & Availability

How To View Quarterly Survey, Inspections & Complaints Reports for Assisted Living Facilities in Albany
Video Produced by Assisted Living Directory
Assisted Living Facilities & Senior Care Homes - Albany

Atria Crossgate
140 Washington Avenue Extension Albany, NY 12203
Number of beds: 59
(518) 869-0211
866-315-1354
Pricing & Availability
Map
Independent Living
Supportive Living

Atria Shaker
345 Northern Blvd Albany, NY 12204
(518) 465-4444
877-644-2963
Pricing & Availability
Map
Supportive Living
Memory Care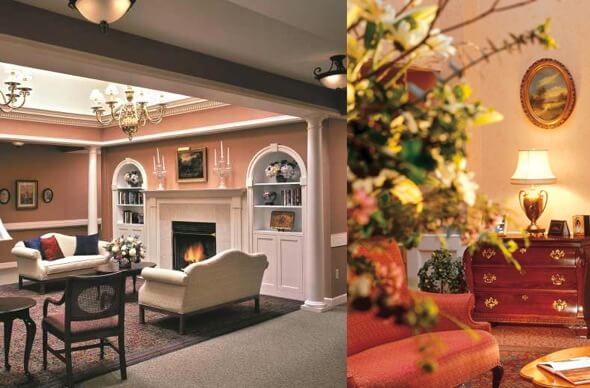 Loudonville Home For Adults
298 Albany Shaker Rd Loudonville, NY 12211
(518) 463-4398
866-666-1057
Pricing & Availability
Map
Assisted Living
Enhanced Assisted Living
Memory Care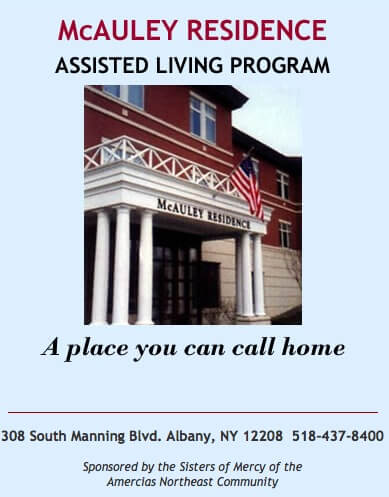 Mc Auley Residence Assisted Living Program (ALP)
308 S Manning Blvd Albany, NY 12208
(518) 437-8400
888-981-6827
Pricing & Availability
Map
24-hour staffing with a nurse available at all times
Attractively furnished private rooms with a half bath
Telephone and cable hook-up in each room
Individually controlled thermostat for heat and air conditioning
Lounges
much more!

Massry Residence at Daughters of Sarah
182 Washington Ave. Albany,NY 12203
Assisted Living Capacity: 70
(518) 689-0453
866-666-1057
Pricing & Availability
Map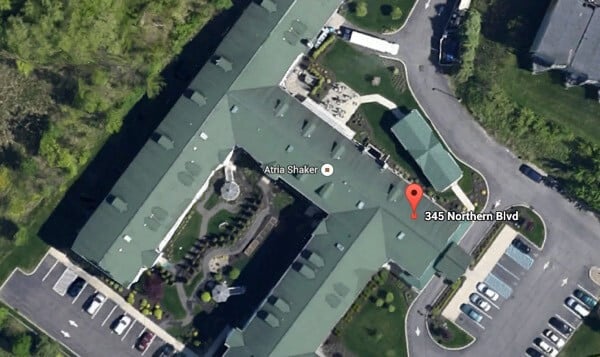 Atria Shaker
345 Northern Boulevard Albany, NY 12204
Number of Beds: 137
Phone: (518) 465-4444
866-981-5725
Pricing & Availability
Map

McAuley Residence
308 South Manning Boulevard Albany, NY 12208
Number of Beds: 48
Assisted Living Program beds: 48
Phone: (518) 437-8400
877-345-1716
Pricing & Availability
Map

Westmere Home for Adults
5 Gipp Road Albany, NY 12203
Number of Beds: 16
Assisted Living Residence (ALR) beds: 16
Enhanced ALR Beds: 16
Phone: (518) 456-8355
888-502-2057
Pricing & Availability
Map
Additional Support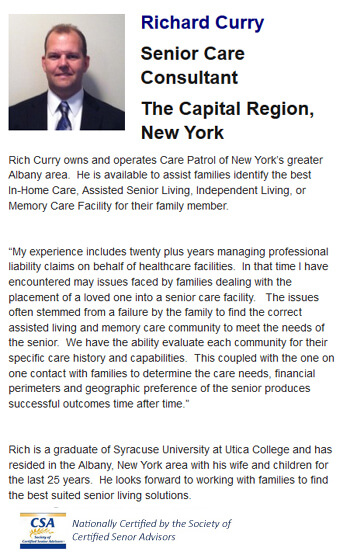 Albany & The Capital District - Certified CSA Senior Consultant
My name is Richard, and I am local to the Albany/Capital area!
I am here to help you to find the assisted living or memory care that is the best match for you, or your loved one in Albany. I am certified, experienced, and looking forward to helping you.
There is no fee or charge for my services!
I invite you to learn more about me and what I can do for you!
888-985-4427Pricing & Availability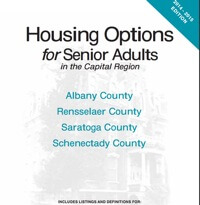 Need More?
Learn about two highly useful NY assisted living research tools offering detailed information on the state's Assisted Living Programs/Facilities!
* This guide is a printable/downloadable .pdf detailing the senior housing options in Albany, and includes facility monthly costs!
888-502-2057Pricing & Availability