How Tired is Too Tired?
Have you ever been tired? Just tired, bone tired; a hard day or week at work or a strenuous activity, like a workout or sport? It's not unheard of for people to get exhausted for a period of time and this is no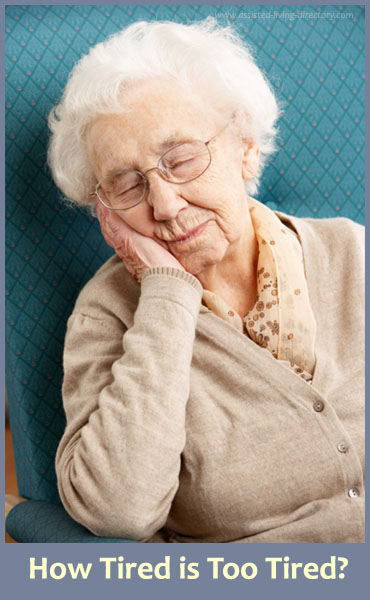 exception for seniors, but is it possible to be too tired?
The month of March is host to a variety of different awareness disease and illnesses that people should watch for and guard against – multiple sclerosis, colorectal and kidney cancer, endometriosis, vision, and others. But there a couple of illnesses that you may not be aware of or may even have that you haven't even thought about; one of those is that of chronic fatigue syndrome. What is chronic fatigue syndrome, or CFS, and why should you care about it?
What is Chronic Fatigue Syndrome?
Ever had the flu? You feel horrible, achy, and overall, so very tired; at times, it feels as though you could sleep for days, weeks, or months until you feel better. Take that feeling, that horrible flu feeling, and imagine that you have it for more than the normal two week period; let's say you've had those feelings for a month, two months, six months, years. That exhausted feeling you get after working hard or working out hard, but it never goes away, despite how much sleep you get, how healthy you are, or how many breaks you take in between activities.
That is what having CFS is like and it's the feeling that more than a million people in the United States cope with.
There are many things that researchers, scientists, and even doctors still don't understand about CFS; a clinic study showed that several sufferers of CFS had a virus known as XMRV and that could be the cause, but more research is still needed in order to make this conclusion a valid point. Virus infections are still thought to be a cause – research has shown that certain sufferers developed CFS after having a bout with viral infections, such as Epstein-Barr and leukemia, but again, no definitive link has been proven.
Some has considered that immune system problems or even psychological problems may be linked to CFS or that maybe a combination of different factors may be the underlining cause. Again, at this point, there is only speculation on what the initial cause of this illness could be.
What is known about CFS is this – an overwhelming fatigue that is constant for more than a few months; characteristics include restless sleep, muscle aches, reduced concentration, headaches, and joint pain. Some sufferers have also experienced chest pains, sore throats, nausea, etc. In many cases, these symptoms are indeed common with a variety of issues, including colds, virus infections, and the flu.
Because CFS symptoms mimic the symptoms of other issues, it's not uncommon for many people to dismiss early warning signs as just having a cold or the flu, or just being overwhelmed with recent activities. While CFS can affect any age group, it's mostly common for those 40+ to experience these symptoms, with seniors having more extreme symptoms than their younger counterparts; as mentioned, due to advancing age, CFS can sometimes be taken as a normal sign of aging and while in some cases, symptoms can be due to age, when they last for more than a few months, there may actually be something that's going on that's not due to just age alone. Women especially are at a higher risk to experience debilitating effects of CFS.
Note: A good assisted living facility with a well-trained staff should be aware of the signs of CFS, and should have a protocol for handling senior residents who are at-risk, or who have been identified as having CFS.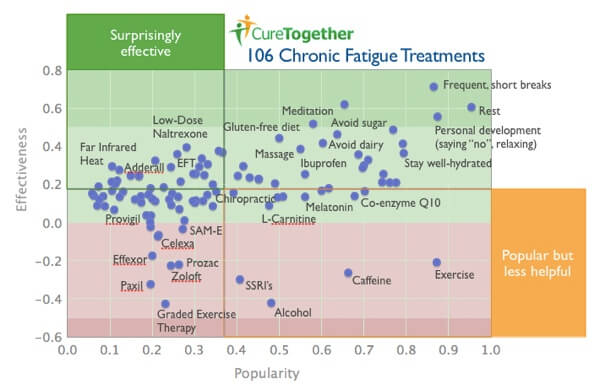 Diagnosing CFS
Again, the indicators of CFS mimic other illnesses and it may take several visits to your doctor in order to actually pinpoint that you may be suffering from CFS. Certainly, if after you have been cleared from having an illness – like a cold, infection, or the flu – but you're still experiencing the symptoms of fatigue, muscle/joint pain, or other issues, notify your doctor immediately.
When you speak with your doctor, be detailed in what is going on with you. Patients often times feel awkward or afraid to ask their doctor questions, but the only way they can help you and the issues you're facing is if they have an idea of what is going on. Ask your doctor if your continued symptoms are signs of something else and if there's anything that you can do to help alleviate the symptoms, such as lifestyle changes like diet or activity.
There are no specific tests for CFS, but will your help, your doctor should be able to pinpoint the underlining causes, which should help in the prescribing either medications or therapy. Be honest and thorough with your doctor so he knows what happening; this will help him determine the next course of action and if you have CFS.
Impact of CFS
For the millions of people that suffer from CFS, their lives have been deeply impacted by the disease. While CFS is now a known illness, it is still not a well-known illness that everyone may be aware of; this means that sufferers may get a sense that no one believes them on their symptoms or worse, get a sense that may they're unbalanced or crazy and don't know why. This can lead to social isolation, which may be a symptom of depression, due to the feelings that there is something mentally- and not psychologically – wrong with them.
Along with isolation and depression, CFS sufferers may make changes to their lifestyle, such as declining favorite events or going out with friends; it may also mean they take more work absences or leave their jobs period because of the constant symptoms, both those of CFS and the feelings that a sufferer faces.
March is National Chronic Fatigue Syndrome month, which is an excellent time to see your doctor in the case you've been feeling a little more tired, aren't getting enough sleep, or you've had 'the flu' for months. Be sure to let others know about CFS, so that they can speak to their doctors and get the help they may be looking for.
Sources:
Chronic Fatigue Syndrome Among Seniors - http://life.gaiam.com/article/chronic-fatigue-syndrome-among-seniors
Chronic Fatigue Syndrome Definition – http://www.mayoclinic.org/diseases-conditions/chronic-fatigue- syndrome/basics/definition/con-20022009
Awareness Calendar - http://www.awarenessdepot.com/awarenesscalendar.html
Copyright © 2014 by Regina Woodard
- Article by Regina Woodard exclusively for Assisted Living Directory
Join our Google+ Community & Discussion Group!
Learn More