Since 2003, my company has provided care for hundreds of clients. Some of those clients had long term care insurance ("LTCI") coverage to help pay the cost of that care. We have helped more than a hundred clients file LTCI claims, and so we've been able to watch and learn to learn some of the best things you can do to avoid having LTCI companies delay or deny your LTCI claim. An aside is in order before we start, by the way: despite the things we'll say in this article about how difficult it can be to file LTCI claims, we believe that LTCI coverage is a good thing to consider. It can be an important part of your family's financial planning and you should ask your financial advisor about it if you haven't already done so.
The Most Important Things to Remember When Filing LTCI Claims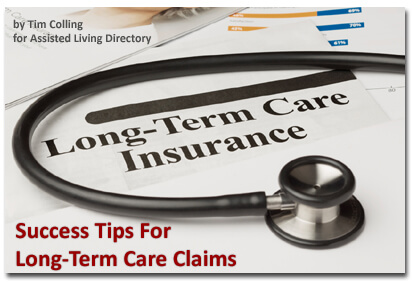 1. Choose one person to be in charge of filing the claim. Usually, this will be a family member.
2. That family member in charge of the claim will need the insured person's authorization to speak with the insurance company about the claim. A "Power of Attorney" document will often be sufficient.
3. The family member in charge of the claim will also need some key data: the policy number, the insured's date of birth, and the insured's social security number.
4. Make sure you have a complete copy of the policy and that you read it before beginning to file the claim. The policy may contain provisions that can either increase, decrease or bar benefits from being paid and knowing about such provisions can help you decide what information to present with the claim, and how to present it.
5. Get help in filing the claim from someone who knows what to do and how to do it. Ask the facility where the insured person will be a resident if they have someone who will help you. You can also ask the agent who sold the policy to in the first place, but in my experience the agents are better at selling policies than they are at helping to file claims under those policies.
6. Make sure the claim is complete when you submit it, including all forms and required supporting documents. Most insurance companies will delay claim approval by initially disclosing only a partial list of the documents that they will eventually require. Therefore you should ask for the entire list when you first notify the insurance company that you want to file a claim.
7. Get the claim filed immediately. The insurance company will take a lot of time to review the claim once you file it, so don't delay.
8. Be prompt, thorough and detail-oriented in all your dealings with the insurance company.
9. After you have submitted your claim, call the company at least once each week and ask about the claim's status. Be thorough and thoughtful in asking questions and writing notes, and be sure to include the date and time of each call, the telephone number that you called, and the name of the person that you spoke to.
Why Would Insurance Companies Make It Difficult To File Claims?
Insurance companies are not allowed to be dishonest, but they are also not required to help you "perfect" your claim. All they have to do is allow you to file a claim and then pass judgement on whether or not your claim has proven that you are eligible for benefits under the policy. They are free to create complicated and difficult claims submission and approval processes, and some of them have claims procedures that almost seem like they were designed on purpose to confuse, discourage and delay claims. Why would they do that? For one thing, if they don't have to pay benefits, they keep the premium money and have higher profits. Also, the longer they get to keep your money before paying benefits, the longer they have to earn investment income from those funds.
What If The Insurance Company Sends A Nurse To Assess The Insured's Condition?
By the way, some insurance companies send a nurse to make an assessment when you file a claim. Remember, that nurse is there as a representative of the insurance company. The nurse is not your friend. Do not confide anything to the nurse that you do not want the insurance company to hear. That nurse's role is to determine whether or not you are eligible for benefits based on your condition.
What If I Don't Have A Copy Of The Policy?
If you don't have a copy of the policy, you should request a copy from the insurance company. But wait, there are some "tricks" to remember about this request: ask for a complete copy, including:
• The policy itself
• All riders, endorsement, attachments and anything else affecting benefits, eligibility and coverage
• The schedule of benefits
• The original policy application filled out by the insured person
Sadly, we've seen a few cases over the years where families requested copies of policies, and then later found their own original copies, and then found that the copies that the insurance companies sent them were incomplete or just plain wrong. When that was the case, the errors in the documents provided by the insurance companies always were errors that would have resulted in lower benefit payments or elimination of benefit payments altogether.
Summary
Remember, it's up to you to make sure that you understand the policy and the claim process. It probably should be the insurance company's responsibility to help you, but they probably won't so you have to be proactive and thorough and document every step that you take. If you do that, you should prevail in the end and receive approval of the claim.
Copyright © 2014 by Tim Colling
Article by Tim Colling exclusively for Assisted Living Directory
Join our Google+ Community & Discussion Group!
Learn More