Assisted Living Learning Center
In our video tutorial about protecting your information when you use 3rd party websties, we talk about measures you can take to protect yourself - making sure that your email and phone number won't be distributed without your knowledge or consent.
We recommend always looking for a privacy policy on every website - which will tell you exactly how they intend to use any information they collect about you!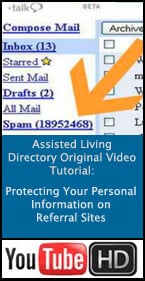 Great questions from our visitors about Ana's Villa and assisted living:
(These questions may serve as examples of the types of questions you and your family might ask your potential assisted living home)
Q Do you take Medicare / Medicaid? if so do you have an opening now/?
Q Looking for a location that is closer to Rosemead. Currently Grandma is in Santa Maria near me, the granddaughter. My mom is in Rosemead. Do you have vacancy for dementia resident? How much does your facility cost?
Q I would like to find out if my mother qualifies to be admitted into assisted living facilities such as Ana's Villa. , I'd also like to find out how many residents live in the house, how many per room, and what the cost is.
Q Are you solely for the elderly or do you take in younger clients as well, I am 39 with dementia.
***This is an interesting question, which shows that assisted living is no longer for the elderly. It can be helpful to younger folks, and a wide range of conditions. - ALD
Q I would like to know how much your facility rates, and are the adjustable? My father has Parkinson's disease and my family cannot see him 24/7 to make sure he is ok.
Q I am inquiring about the cost of monthly care at your facility. My mom suffers from dementia and I want to make sure she is placed in a home with a good staffing-to-resident ratio.
---
Subscribe
Don't be fooled by the Questionable Tactics used by many assisted living sites
Assisted Living Directory has a No Spam Guarantee!