Do Not Trust Senior Care Sites That Do This

By David Besnette for Assisted Living Directory
I don't like to say this, but unfortunately, the assisted living industry (notably, the online 'face' of it) is ripe with sleaze and misconduct.
That's where I've always tried to leverage our site to educate our users on what to look out for, to stay safe, and to protect your information.
Yesterday, I came across another site that violates the number one rule (in my book) of trust and transparency. This site, whose owners have obviously put a lot of capital, time and resources into how it looks, is shrouded in mystery.
Mystery, when it comes to assisted living and senior care, is the stepping stone to fraud, abuse, privacy issues, and potential injury or death (if a family is misled so much as to place a family member into a home that does not meet their needs, or that perhaps is wrought with health and safety violations).
So, what did this site do (or rather did not do) that is so sketchy?
Take a look: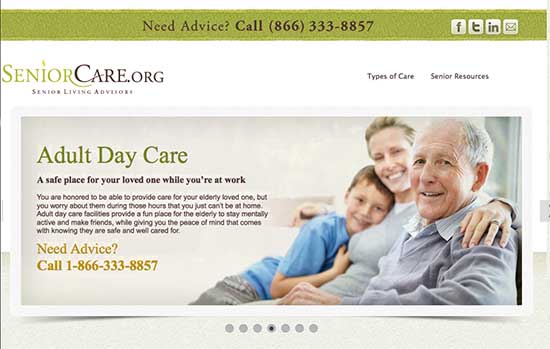 I came across this site yesterday, and hadn't heard about it before. It's a very pretty site, for sure. However, a few things immediately made me twitchy about it.
Firstly, they have the .org extension. The 'dot org' extension was created, and should be used by sites, and organizations (hence "org") that are not-for-profit. This is one of the most common abuses nowadays, that gives sites false credibility and the appearance of being non-commercial.
This immediately made me look a bit further into the site to see what they are about.
Unfortunately, that's where the trail goes cold. There is no clue anywhere as to who owns the site, and how to contact an actual owner, or to even figure out where they are located or based out of.
Yes, there is an "800" number, and a large referral form, that they obviously use to collect information to sell to other companies.
However, the only way to 'contact' the site is through a very basic email button, that goes to an 'info@" email address.
Other than that, there is no address, direct phone number, name or ownership information, or hint of who is behind the site.
NO CONTACT INFORMATION WHATSOEVER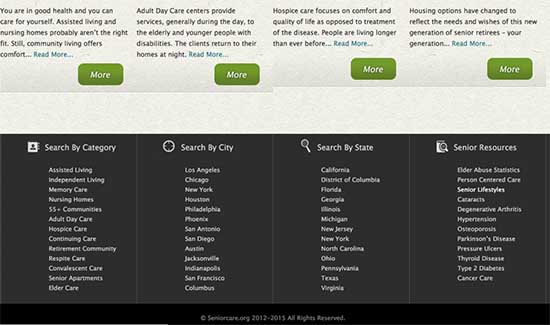 Their "Contact Us" page is lame, and has virtually no information: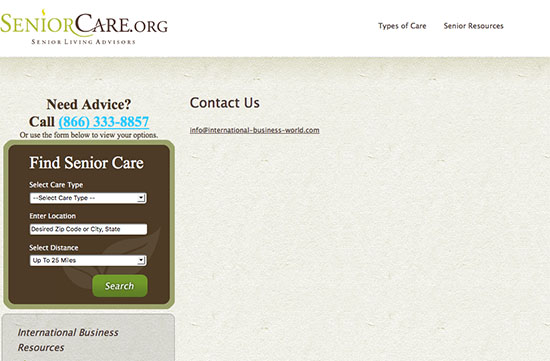 I even went to their 'social' pages, and there is nothing there either to give away the site, and owner's true identity.
From here, I decided to look them up using a "whois" search, which should give me domain registration information, administrative and technical contacts, an address, owners name and other useful information.
Nothing useful in their WHOIS record (intentionally hidden):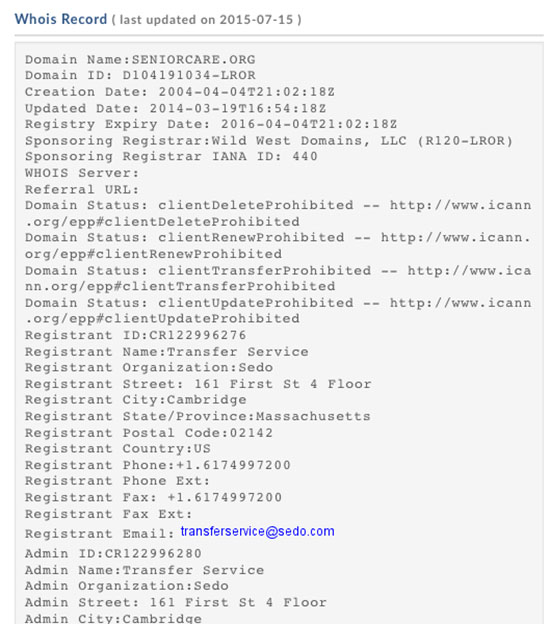 However, as you can see, they've made great efforts to obscure this information too, by using a 'proxy' service.
Are you feeling twitchy yet?
I sure am, and unfortunately, these practices are quite common in our industry. Why should you "Trust" a site that can't come clean about who they are, where your information is going, and who is actually going to be helping you to make one of the biggest decisions of your life (or for a family member's).
In the 10 years I've had an online presence in this industry, I've seen first-hand the abuse, and misguidance generated from sites like this.
The bottom line:
If an assisted living website (or any website for that matter) can't tell you who they are, or who is behind their site, then you should offer them the same courtesy – remain anonymous, and move on.