Join our Google+ Community & Discussion Group!
Amery
Riverbend Assisted Living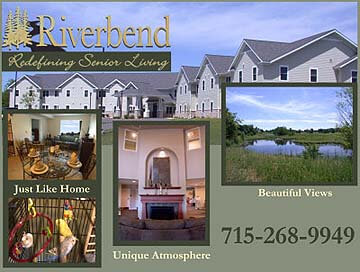 Amery Wisconsin WI Assisted Living Memory Care Alzheimer's Dementia Senior Living Healthcare Riverbend
Amery, WI
Antigo
Care Partners Assisted Living
915 1st Ave
Antigo, WI 54409
(715) 627-4698
Appleton
Cottage Living at Carolina Manor
Cottage Living at Carolina Manor is an assisted-living community offering everything today's seniors need to help them continue to explore and enjoy life in a safe environment. At Carolina Manor we advocate independence and activity for your body, mind and spirit. For more information please call 920-738-0118 or email Carolinamanor@new.rr.com
Cottage Living at Carolina Manor
3201 West 1st Avenue
Appleton, WI 54914
Baraboo
Meadow Ridge Assisted Living
1700 Jefferson St
Baraboo, WI 53913
(608) 356-8770
Barron
Maplecroft Independent & Assisted Living
1333 Memorial Dr # Nm
Barron, WI 54812
(715) 537-9200
Beaver Dam
Charleston House Assisted Living
104 Fakes Ct
Beaver Dam, Wisconsin 53916
(920) 356-9818
Beloit
Pioneer Court-Assisted Living
Pioneer Court is a fifty bed, thirty-five unit, assisted care facility, located on a quiet, residential street in Beloit.
2122 Pioneer Dr
Beloit, WI 53511
(608) 365-9451
Apara Care is For Quality/Affordable Non- Medical Home Care and Assisted Living
We are excited that you are interested in learning more about our services. Services provided include the support of a Registered Nurse available by phone 24/7. A Registered Nurse will complete a comprehensive assessment upon admission and then again every sixty days. The Registered Nurse will monitor the home care client's care plan and services provided by the care team. Our team of experienced Certified Nursing Assistants are available to help the home care client remain as independent as possible in the comfort of his or her own home. Services include personal care, housekeeping assistance, transportation, sitter service, and meal preparation.
Our hourly rates are very reasonable and we are available immediately to provide home care services. We are a seasoned staff with many years in the health care industry wanting to provide quality of care at an appropriate cost. We are dedicated and committed to you and your community. Apara Care in-home senior care helps you remain independent in your home. We bring the resources to support your independence in your own home. Whether you need help with medications, grooming, transportation, or a host of other areas, we are here for you. Our dependable team of professionals can provide transportation, assistance with fall prevention, dementia care, and family support and referrals. Our Care Coordinator will work with you and your family to customize a home care plan that maximizes your independence and honors your wishes. Our team of home care professionals is available 24/7, including holidays.

When you say yes to Apara Care Health at Home you will receive the best possible home support. We are passionate about our service to you and your family. Our philosophy is a multi-disciplinary team approach. We work diligently with you, your loved ones, your physician, and all members of your health care team to ensure that your needs are met. We communicate frequently with your team to inspire independence and support your desire to age in place and honor your preferences.
We will be opening an Assisted living in Beloit, WI in the fall of 2013
Brookfield
Brookfield Gardens
"At Brookfield Gardens Assisted Living, we provide compassionate and quality care to older adults."
660 Woelfel Road
Brookfield, WI 53045
(262) 789-7499
Clare Bridge of Brookfield
15100 W Capitol Dr
Brookfield, WI 53005
(262) 781-5220
Prohealth Care Regency Senior Communities


Brookfield ProHealth Care Regency Senior Communities provides Senior Living, Assisted Living, and Attended Care services for seniors within a quality residential setting. At Regency the focus is on maximizing the independence of the senior in the least restrictive yet safe and comfortable environment.
262-780-0321

Cedarburg
Cedar Gardens Assisted Living
W56N225 McKinley Blvd
Cedarburg, WI 53012
(262) 376-7700
Chippewa Falls
Our House Senior Living: Our House Assisted Care
115 Marrs St
Chippewa Falls, WI 54729
(715) 723-6840
Rutledge Home Assisted Living & Memory Care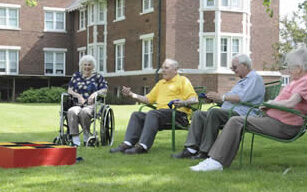 300 Bridgewater Ave
Chippewa Falls, WI 54729
(715) 723-5566
Website
Cudahy
Sylvan Crossing at Creekside Estates
"At Sylvan Crossings, we believe that assisted living should be similar to living at home. Our residents have the right to make their own choices and be in control of their lives. We integrate our residents' past experiences into their new home and we respect individual styles, interests and beliefs. In essence, we fit into the resident's life rather than requiring residents to fit into ours."
6180 S Creekside Dr
Cudahy, WI 53110
(414) 762-7408
Website
De Pere
Angel's Touch Assisted Living LLC
1550 Arcadian Ln
De Pere, WI 54115
(920) 339-0601
Website
The Renaissance Assisted Living - Renaissance De Pere
"Our De Pere campus offers 71 assisted living apartments and a skilled nursing facility."
250 S 9th St
De Pere, WI 54115
(920) 983-5100
Website
Eau Claire
Apple Valley Home
Apple Valley Home in Eau Claire, Wisconsin provides resident assisted living to up to 4 adults.
6700 US Highway 53
Eau Claire, WI 54701-8844
(715) 835-5141
Grace Edgewood Assisted Living
4868 Otteson Ln
Eau Claire, WI 54701
(715) 835-0429
(715) 552-8870
Fitchburg
Avalon Assisted Living
"Our campus includes senior retirement apartments with assistance options, cottage-style assisted living, and person-centered memory care services. We have ample indoor and outdoor spaces for resident use and perfect viewing areas for the many deer, songbirds, and other wildlife that visit our grounds!"
2879 Fish Hatchery Rd
Fitchburg, WI 53713
(608) 274-4350
Website
Fond Du Lac
Brookdale-Sterling House Fond Du Lac
"Sterling House Fond du Lac located in Fond du Lac, Wisconsin offers Personalized Assisted Living options for seniors"
1001 Primrose Ln
Fond Du Lac, WI 54935
(920) 924-7775
Website
Lake View Assisted Living
545 Luco Rd
Fond Du Lac, WI 54935
(920) 926-1300
Harbor House Assisted Living
"At Harbor House, we've taken nearly three decades in developing systems and programs of care unlike any other. We'd like to tell you a little more that describes our commitment to family service."
154 S Pioneer Pkwy
Fond Du Lac, WI 54935
(920) 921-3993
Website
Greendale
CONCORD SENIOR LIVING COMMUNITY
5700 MOCKINGBIRD LN
GREENDALE, WI
(414) 421-9600
Kenosha
Canterbury Home of Kenosha
"Located in a quiet neighborhood close to churches, parks, and shopping, there's a new kind of home for senior adults and others who need assistance with the activities of daily living."
7924 36th Ave
Kenosha, WI
(262) 697-7711
Website
Meadowmere-Madison Assisted Living Community
"Meadowmere Southport Assisted Living Community in Kenosha, Wisconsin, is an assisted living community that offers residents 24-hour assistance with day-to-day tasks, while encouraging as much independence as possible."
8351 Sheridan Rd
Kenosha, WI
(262) 948-1100
Website
Madison
Meadowmere Assisted Living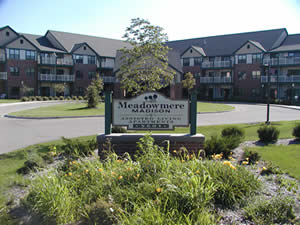 Meadowmere assisted living maximizes your independence with personalized support. You can live independently in your own fully-equipped apartment within an active community and have the security that assistance is readily available whenever you need it.
Schedule a personal tour or request additional
call 608-268-9100
5601 Burke Road
Madison, Wisconsin 53718
Menomonie
Our House Assisted Living



Services and amenities include, but are not limited to:


Beautiful, comfortable, and home-like neighborhood


Alarmed entries and exits


Attractive community dining room with access to the family-style kitchen and snack bar


Cozy television lounge


Raised flower gardens as well as ground level garden plot


Large front porch with sitting area


All areas are handicap accessible


Wheelchair accessible shower and tub


Beauty/barber shop available


820 17th Avenue
Menomonie, WI 54751
Phone: (715) 232-8181
Milton
Milton Senior Living (an alternative to assisted living)
Milton Senior Living offers supportive, personal and nursing services. All of these will be under the supervision of the administrator and will be performed by trained staff who are on duty 24 hours a day.
600 W Sunset Dr
Milton, WI 53563
(608) 868-3000
Monroe
St Clare Friedensheim Assisted Living
2003 4th St
Monroe, WI 53566-3904
(608) 329-3601
Harbor House
2800 6th Ave
Monroe, WI 53566-3500
(608) 329-6340
Stevens Point
Care Partners Assisted Living
3349 Whiting Ave
Stevens Point, WI 54481-5143
(715) 341-1556
North Haven Assisted Living Homes
2225 Eagle SMT
Stevens Point, WI 54481-8977
(715) 343-1288
Sturgeon Bay
At Cardinal Ridge in Sturgeon Bay, Peace of Mind is Yours!
At Cardinal Ridge Residential Care, a community based residential facility thoughtfully designed with seniors in mind, we offer an affordable, home-like atmosphere along with the assistance sometimes needed in our senior years.
At Cardinal Ridge, our residential homes are safe and secure, offering a highly trained staff and a list of fine amenities that allow our residents worry-free living.

Highly trained and caring staff


Health monitoring by RN, LPN's and CNA's


Personal Care Assistance


Dementia Care


Supervision of medications


Individual and group activities


Nutritious home-cooked meals


Laundry and Housekeeping services


On-site Beauty and Barber Shop


Awake 24 hour staffing


Secured environment


Emergency Call System in each room/bathroom


Worship Opportunities


Manicure and Foot Care Services


Birthday Parties/Holiday Celebrations


Monthly Outings to Restaurants


Live Entertainment weekly


We have 24 private rooms, each with their own private bath
Come home to independence, security and individual assistance. Come home to Cardinal Ridge.
Finely furnished, private rooms of varying sizes are offered. Lounges, spacious yards and attractive patio areas provide for your comfort and safety.
With a helping hand, limitations can become opportunities. Cardinal Ridge can provide the individualized assistance you need to remain comfortable, worry-free and as independent as possible.
Call Kris at 920-743-9289 for information on our home located at 817 E. Circle Ridge, Sturegon Bay, Wisconsin. You may also email us at Kris@Cardinalridge.com for more information or visit our web site at www.Cardinalridge.com.
Karen
Sturgeon Bay, Wisconsin

CBRF since 1991
Washburn
Northern Lights Assisted Living
706 Bratley Dr
Washburn, WI 54891
(715) 373-5621
Website
Waterford
Assisted Living at its Finest!
Waterford Senior Living is a certified RCAC with 40 apartments that can provide nursing, supportive, and personal care if needed. Stop in any time for a tour. 301 South Sixth Street Waterford, WI 53185 phone 262-534-4800
Meghan

0012091
Waupaca
Park Vista Retirement Living
Welcome to the premier location for senior living in Waupaca Wisconsin. We are proud to offer Independent and Assisted living accommodations with all the finest amenities available for our 55 and over residents. Located on a large wooded lot overlooking beautiful Fox Fire Golf Course.
Contact Terri Vaughn: Community phone 715-256-0100, Terri's cell phone 715-281-0515.
West Bend
Friendship House Assisted Living
5595 County Road Z
West Bend, WI 53095
(262) 306-2100
(262) 334-9487
Website: cedarcommunity.org
Additional Support

Learn facility inspections & deficiencies for Wisconsin statewide. This is also another great way to simply research facilities and senior care!