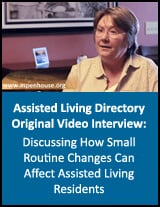 Great questions and comments that we have received about Wadhams Valley and assisted living:
Q: My mother is a resident of your facility and I was wondering if it was possible to get a breakdown of what her expenses are a month there and if there are any extra costs/expenses I need to know about. Thank You.. - Melinda
Q: Are you accepting new residents presently?
Average monthly cost, for people needing help with transfers, dressing, and shower? - Elaine
Q: are there semi private rooms? - Liz
Q: I am searching for a place for my father. He is 69 yrs old and has a multitude of health issue and needs a little more help than his current situation can provide. We are looking for a place that goes by income. He currently gets social security checks and has medicare. I am not sure how this process goes as this is my first time having to do this all information would be greatly appreciated. Thank You, - Jennifer
Q: My mom has Alzheimers. I am looking for a facility to care for her. She is friendly and gets around fine. How much is the monthly fee? Do you have any rooms available? Cindy
Q: Hello, I am looking for a home for my aunt. She has currently been diagnosed with dementia but she is very mobile, just has issues with her memory. Do you have availability at your facility? - Tonia
Don't be fooled by the Questionable Tactics used by many assisted living sites

Assisted Living Directory has a No Spam Guarantee!