Join our Google+ Community & Discussion Group!
Abingdon
Abingdon Manor Home For Adults
481 Bradley Street
ABINGDON, VA 24210
(276) 628-6631
Capacity: 130
Westhaven Retirement Living
860 Wolfe Creek Trail, N.W.
ABINGDON, VA 24210
(276) 628-1621
Capacity: 65
Amherst
Johnson's Senior Center, Inc - Residential and Assisted Living Care
108 & 112 Senior Street
AMHERST, VA 24521
(434) 946-2770
Capacity: 85
Appomattox
Babcock Manor, Inc. Residential and Assisted Living Care
State Route 691
APPOMATTOX, VA 24522
(434) 352-8686
Capacity: 33
Arlington
Sunrise Assisted Living: Sunrise at Arlington
2000 N Glebe Rd
Arlington, VA 22207
(703) 524-5300
Ashland
Hanover Manor - Residential and Assisted Living Care
Route 54-West
ASHLAND, VA 23005
(804) 798-3239
Capacity: 46
Bedford
Campbell Rest Home - Residential and Assisted Living Care
1350 Longwood Ave.
BEDFORD, VA 24523
(540) 586-0825
Capacity: 57
Elks National Home - Residential and Assisted Living Care
931 Ashland Avenue
BEDFORD, VA 24523
(540) 586-8232
Capacity: 230
Berryville
Greenfield Assisted Living of Berryville
413 McClellan Street
BERRYVILLE, VA 22611
(540) 955-4557
Capacity: 64
Blackstone
Clay's Assisted Living Facility
701 Lunenburg Avenue
BLACKSTONE, VA 23824
(434) 292-4497
Capacity: 65
Boston
Jackson House Assisted Living
8 Jackson Lane
BOSTON, VA 22713-1720
(540) 987-8746
Capacity: 8
Cana
Cana Adult Home - Assisted Living
2004 Wards Gap Road
CANA, VA 24317
(276) 755-4981
Capacity: 24
Cedar Bluff
Golden Age Retirement Home
128 Glenwood Street
CEDAR BLUFF, VA 24609
(276) 596-9248
Capacity: 49
Mayfair House
500 Clinic Dr
CEDAR BLUFF, VA 24609
(276) 238-8686
Capacity: 60
Chantilly
Keough Senior Living Chantilly Virginia
Keough Senior Living is a family owned and operated facility that cares for your loved ones as you would. We take pride in ensuring quality professional care for the elderly with that personal touch. Each member of our home is treated with the respect and sincerity that they deserve. Our desire is to make those golden years precious and meaningful.
As our loved ones age, simple tasks become strenuous and sometimes impossible. That is where Keough Senior Living becomes valuable. We help when your loved ones need more care on a daily basis than you can provide.
As you consider care options for your loved one, remember we provide a warm caring environment. Keough Senior Living focuses on individual care for those who need a little help in a home setting where everyone becomes a member of our family. We provide the house that hugs them.
Chantilly
Virginia
Patrick
keoughseniorliving@verizon.net
Chatham
Oak Grove Lodge Residential Care
220 Oak Grove Lane
CHATHAM, VA 24531
(434) 432-0513
Capacity: 63
Chesterfield
Assisted Living at Lucy Corr Village
6800 Lucy Corr Court
CHESTERFIELD, VA 23832
(804) 748-1511
Capacity: 74
Gateway Homes of Greater Richmond, Inc. - Residential and Assisted Living Care
11901 Reedy Branch Road
CHESTERFIELD, VA 23832
(804) 748-3966
Capacity: 15
Covington
Tanglewood Home for Adults
Tanglewood Home for Adults offers both Assisted Living and specialized Alzheimer's care. Tanglewood Home features spacious studios, one-bedroom, and two-bedroom floor plans with large sunny windows overlooking beautifully landscaped grounds and gardens. Residents can appreciate the coziness of the community living room with fireplace, library, and private dining room, where intimate dinners can be shared with family and friends. Tanglewood Home truly becomes a home as residents personalize their rooms and add love, laughter and memories with other residents, friends, and family.
4401 Midland Trail
Covington, VA 24426
(540) 962-4967
Deborah Kern
Dryden
Chestnut Grove Home for Adults
Chris Barney Road
DRYDEN, VA 24243
(276) 546-1194
Capacity: 98
Dublin
Beulah House, Inc. Residential and Assisted Living Care
4704 Caddell Lane
DUBLIN, VA 24084
(540) 674-0695
Capacity: 5
Elkton
Journey's Crossing Assisted Living
Located in the town of Elkton, in Rockingham County, the warm home-like environment is evident in the decor and family type care provided to the residents.
Come visit and you will truly see where "Home and Heart Meet"!
Theresa DeMastus, LPN, Administrator
102 N.Stuart Avenue
Elkton, VA 22827
(540) 298-0054
Fairfax
HOME ELDERCARE
we are an assisted living facility , located in Fairfax Virginia, the house is all on one level, ther are no stairs to climb, the care is one on one, we have private and semi private rooms with half a bath in it, we have a well trained staff, some one is on duty 24hrs. the phone numbers are 703 273-3640, 703 385-6755 fax, contact bali directly, 703 909-7438, our address is 10704 Orchard st Fairfax 22030, my e-mail is balisigmon@aol.com
BALI
VIRGINIA, FAIRFAX
Learn Independent living with Us!
We are a licensed 6 person group home. Friendly and warm home overlooking lake in the back yard. We currently have are accepting applications for admittance. We specialize in helping those with learning disabilities to achieve independent living and better their skill of daily living such as cooking, cleaning, hobbies, socializing, laundry and much more. Come grow with us. We also have a program in connection with Northern Va. Community College called Strive. The teach a range of class to help with life skills, social skills, vocational training and placement and more. Contact Karen Lee at 703-323-9420 or Dr. Robinson at 301-292-7600 for more information.
Karen
Falls Church
Chesterbrook Residences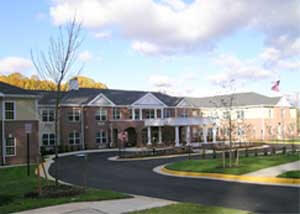 Welcome to Chesterbrook Residences, a mixed-income community offering affordable assisted living services in a home-like setting to adults age 62 and older. Chesterbrook Residences contains 97 one and two bedroom units, serving up to 106 individuals. Community features, services and amenities include, but are not limited to:


Nestled within a beautiful forested setting in the McLean/Falls Church area


Three meals daily


Weekly housekeeping


Assistance with daily activities


Medication management
Chesterbrook Residences, Inc.
2030 Westmoreland Street
Falls Church, Virginia 22043
(703) 531-0781
Fredericksburg
Golden Living Community
3902 Plank Road
FREDERICKSBURG, VA 22407-6839
(540) 786-5589
Capacity: 19
Greenfield Assisted Living
1001 Northside Drive
FREDERICKSBURG, VA 22405-2615
(540) 374-8200
Capacity: 36
MicAnd Assisted Living
9300 Onyx Court
FREDERICKSBURG, VA 224079329
(540) 891-5540
Capacity: 94
Front Royal
Amerisist of Front Royal
106 Westminster Drive
FRONT ROYAL, VA 22630
(540) 631-0505
Capacity: 24
The Southerlands
600 Mount View Street
FRONT ROYAL, VA 22630
(540) 636-2800
Capacity: 75
Henrico County
Pathways to Wisdom
We provide the following in-home, assisted living services:
Letter writing both personal/business
Check writing
Notary public services
Light housekeeping
Errands
Personal alarm system sales for your safety
Companionship to various functions/affairs
Henrico County
Virginia
Doris H. Street
doris_street@msn.com
Irvington
Rappahannock Westminster Canterbury - Non-Ambulatory Residential and Assisted Living Care
132 Lancaster Drive
IRVINGTON, VA 22480
(804) 438-4000
Capacity: 62
Kilmarnock
Commonwealth Assisted Living at Kilmarnock
460 South Main St.
KILMARNOCK, VA 22482
(434) 220-1055
Capacity: 60
La Crosse
Holly Haven #7 Assisted Living Facility
230 High Street
LACROSSE, VA 23950
(434) 757-1763
Capacity: 16
Lawrenceville
Envoy of Lawrenceville
1722 Lawrenceville Plank Road
LAWRENCEVILLE, VA 23868
(434) 848-4766
Capacity: 13
Lebanon
Altamont Manor Home For Adults - Assisted Living
Capacity: 40
247 Purcell Road
LEBANON, VA 24266
(276) 794-7139
Mountain View Adult Care Residence
Capacity: 19
160 Rogers Street
LEBANON, VA 24266
(276) 889-2783
Town & Country Adult Care Residence
Capacity: 30
667 Pioneer Drive
LEBANON, VA 24266
(276) 889-3222
Leesburg
Meadow Glen of Leesburg - Residential and Assisted Living Care
315 Dry Mill Road
LEESBURG, VA 20175
(703) 404-2546
Capacity: 40
Morningside House of Leesburg - Residential and Assisted Living Care


316 Harrison St., Se
LEESBURG, VA 20175
(703) 777-2777
Capacity: 77
Sunrise of Leesburg - Residential and Assisted Living Care
246 West Market Street
LEESBURG, VA 20176
(703) 777-1971
Capacity: 42
Lexington
Webster Assisted Living Center
160 Kendal Drive
LEXINGTON, VA 24450
(540) 463-1910
Capacity: 20
Louisa
Amerisist of Louisa Assisted Living and Residential Care
440 West Main Street
LOUISA, VA 23093
(540) 967-4600
Capacity: 27
Lovettsville
The Lovettsville Home - Assisted Living and Residential Care
39196 Rodeffer Road
LOVETTSVILLE, VA 20180
(540) 822-3824
Capacity: 8
Woodland Retirement Home of Loudoun County
39705 Wenner Road
LOVETTSVILLE, VA 20180
(540) 822-5462
Capacity: 17
Luray
Alcove Lane Assisted Living Home
Your home away from home, a licensed facility providing companionship, meals, and assistance for seniors who need 24hr care. Contact Ms. Abby Ellis, Administrator at (540) 743-3098 email alcovelane@gmail.com or visit our website www.alcovelane.org
Hawksbill Assisted Living
Assisted living on the Hawksbill! Convenient location in the town of Luray, Page county.
"Your Care is Our Greatest Concern"
Gloria Good, LPN, Director of Resident Care
122 N. Hawksbill Street
Luray, Virginia 22835
(540) 743-6220
Website: www.whisperingpinesassistedliving.com
Whispering Pines Assisted Living
Assisted living with bright spacious surroundings. Memory care unit on site. Contact us at (540) 743-2273
Lynchburg
Grace Lodge
1503 Grace St
Lynchburg, VA
(434) 528-0969
Runk & Pratt Residential Adult Care
20212 Leesville Road
LYNCHBURG, VA 24502
(804) 237-7809
Summit Assisted Living
1320 Enterprise Drive
LYNCHBURG, VA 24502
(434) 845-6045
The Oaks of Lynchburg, VA
2249 Murrell Rd.
Lynchburg, VA 24501
434.846.6611
Williams Home Incorporated
1201 Langhorne Road
LYNCHBURG, VA 24503
Manassas
Amerisist of Manassas...Independence doesn't have to mean alone
23 bed capacity, easy access in a home-like environment!
10140 Hastings Drive
Manassas, VA 20110
Prince William County
703-393-6300 [main number]
703-393-6691 [fax]
800-645-4447 [admissions]
District Home Assisted Living at Birmingham Green
8605 Centerville Road
MANASSAS, VA 20110-5265
(703) 257-0935
Capacity: 64
Golden Years and More, LLC
13114 Canova Drive
MANASSAS, VA 20112-7840
(703) 791-0612
Capacity: 8
Sudley Manor House
7750 Garner Drive
MANASSAS, VA 20109-8111
(703) 392-9797
Capacity: 82
Marion
International Rejuvenation Center - Residential and Assisted Living Care
221 West Main Street
MARION, VA 24354
(276) 782-9987
Capacity: 19
Ridgefield Assisted Living
155 Ridgefield Drive
MARION, VA 24354
(276) 646-2438
Capacity: 96
Montross
Washington & Lee Home for the Elderly
2554 Flat Iron Road
MONTROSS, VA 22520
(804) 493-0652
Capacity: 18
New Market
Experience the Difference at the Shenandoah Place
Assisted living residence. Located in Virginia's Shenandoah Valley, our location offers the benefits of rural living within 10 minutes from area hospitals, James Madison University, and the Harrisonburg shopping centers.
Sandra Clatterbuck
sandraclatterbuce@shenandoahplace.com
Potomac Falls
Johnson Center at Falcons Landing
20535 Earhart Place
POTOMAC FALLS, VA 20165
(703) 404-5220
Capacity: 30
West Falls Center at Falcons Landing
46661 Algonkian Parkway
POTOMAC FALLS, VA 20165
(703) 404-5301
Capacity: 60
Powhatan
Essene Home for Adults
4332 Worsham Road
POWHATAN, VA 23139
(804) 598-5415
Capacity: 28
Pulaski
Pulaski Retirement Community / Assisted Living Facility
2421 Lee Highway
PULASKI, VA 24301
(540) 980-8535
Capacity: 52
Radford
Wheatland Hills-Radford
7486 Lee Highway
RADFORD, VA 24141
(540) 639-2411
Capacity: 60
Raphine
Blue Ridge Christian Home
85 Beulah Drive
RAPHINE, VA 24472
(540) 377-9590
Capacity: 20
Richlands
Hill Creek Assisted Living LLC
305 Hill Creek Road
RICHLANDS, VA 24641
(276) 963-2828
Capacity: 12
Richmond
AT HOME ASSURANCE ASSISTED
3604 REYNOLDS RD
RICHMOND, VA
(804) 788-6636
Chamberlayne Assisted Living
(804) 355-7593
3206 Chamberlayne Ave
Richmond, Virginia 23227
South Hill
North View Home for Adults - Residential and Assisted Living Care
399 Saffold Road
SOUTH HILL, VA 23970
(434) 447-8892
Capacity: 23
Pine View Retirement Home - Residential and Assisted Living Care
621 Academy Land
SOUTH HILL, VA 23970
(434) 447-3437
Capacity: 60
Sterling
Monroe House Assisted Living Community - Residential and Assisted Living Care
46555 Harry Byrd Highway
STERLING, VA 20164
(703) 896-9590
Capacity: 80
Sunrise at Countryside Assisted Living Facility
45800 Jona Drive
STERLING, VA 20165
(703) 430-0681
Capacity: 130
Stafford
Greenfield Assisted Living of Stafford
30 Kings Crest Drive
STAFFORD, VA 22554-4776
(540) 288-9353
Capacity: 62
Marian Manor of Stafford
177 Old Potomac Church Road
STAFFORD, VA 22554-7258
(540) 659-6375
Capacity: 39
Stuart
The Landmark Center Assisted Living Facility
227 Landmark Drive
STUART, VA 24171
(276) 694-3050
Capacity: 75
Tazewell
Mother of Christ Julinoel
520 Dogwood Road
TAZEWELL, VA 24651
(276) 988-7551
Capacity: 97
Timberville
Timberview Crossing
Located in the town of Timberville, Rockingham county, new addition include spacious rooms with kitchenettes and full baths!
Come see where "Home and Heart Meet"!
Wendy Kling, LPN, Administrator
351 New Market Road
Timberville, VA 22853
(540) 896-9858
Website: www.seniorscrossing.com
Warrenton
Amerisist of Warrenton - Residential and Assisted Living Care
239 Alexandria Pike
WARRENTON, VA 20186-2915
(540) 347-6000
Capacity: 41
Warsaw
The Orchard
62 Delfae Drive
WARSAW, VA 22572
(804) 313-2500
Capacity: 40
Williamsburg
Assisted Living At Patriots Colony - Residential and Assisted Living Care
6200 Patriots Colony Drive
WILLIAMSBURG, VA 23188
(757) 220-9000
Capacity: 136
Dominion Village of Williamsburg - Residential and Assisted Living Care
4132 Longhill Road
WILLIAMSBURG, VA 23188
(757) 258-3444
Capacity: 58
Madison Retirement Center - Residential and Assisted Living Care
251 Patriot Lane
WILLIAMSBURG, VA 23185
(757) 220-4014
Capacity: 92
Winchester
Hilltop House Assisted Living
(540) 667-5323 Hilltop House is a family
owned & operated facility
111 Denny Lane located in Winchester, VA.
Winchester, VA 22603 Owners Joe & Juanita Smith
take personal pride in
the family style
atmosphere at Hilltop
House. Hilltop offers all
levels of assisted living
Lisa Smith from light to total care.
Call today to schedule a
www.hilltop-house.com tour.
Winchester
Virginia
Willows at Meadow Branch
At The Willows at Meadow Branch
• Seniors live at their own pace
• Empowered lifestyle
• Varying levels of personalized care and assistance
• Gracious Accommodations
• call us at (540) 667-3000 to schedule an appointment.
(540) 667-3000
1881 Harvest Dr
Winchester, VA 22601
Website: thewillows-mb.com
Additional Support

Assisted Living Tidbits:
Does your assisted living facility do background checks on its volunteers? We were reading an article this morning out of the www.wjla.com (Virginia) online site about an assisted living home volunteer who was caught sexually abusing a resident at the Cherrydale Health and Rehabilitation Center. If your facility has a volunteer staff, as many do, check to see if they are subject to background and criminal checks.
Click here for the Virginia State Retirement System website - Virginia Retirement System administers benefits for over 500,000 of Virginia's current and retired public employees.
Learn about CFS and how it relates to seniors!