Brigham City
Country Lane Assisted Living Center
985 S 800 W
Brigham City, UT 84302
(435) 723-1394
Logan
Legacy House Assisted Living
330 E 1400 N
Logan, UT 84341
(435) 755-2877
Moab
The Willows
48 Shields Ln
Moab, UT 84532
(435) 259-3155
Orem
Canyon Breeze Senior Living
Beautiful independent living cottages with CNA support & services available. Assisted living levels 1 & 2 with caring, responsive staff. Live the life you want at Canyon Breeze!
Paul
More Information
Park City
Welcome Home! Broph's Place located in Park City!
Located in the heart of beautiful Park City, Utah, Broph's Place and Emerald Home Health Care provide you or your loved one with the comforts of home. Our friendly staff will put your mind at ease as they specialize in one-on-one care that promotes independence, wellness, and respect. Our proximity to transportation, health care and other services make our facility convenient while still encompassing the majestic beauty of the mountains.

We offer several services to assist you and your loved ones including:

~ Level I Assisted Living
~ Home Health Care
~ Hospice Carebr
~ Adult Day Care
~ Respite Care
~ Transportation

We welcome you and your loved ones the chance to enjoy the experience of home.
Eileen

Pleasant Grove
Grand Opening, Bee Hive Homes, Pleasant Grove, Utah
If you enjoy the finest life has to offer your loved ones. Bee Hive Homes Pleasant Grove is the place for you. Cathy and Joseph Gebhardt have completely remodeled this beautiful home and had them professionally decorated inside and out. This home sit in a quite neighborhood settings with all the amenity's you would have at home. These homes also sit at the bottom of Mount Timpanogos and has beautiful views of the surrounding mountains. Just sit back and enjoy the wonderful views of the mountains, gardens and abundant wildlife, such as dear in the yard. The Gebhardts personally own and operate there homes, so the most important thing you have to remember is you can count on them treating your loved ones as if they were family. Here are some of the serves we have to offer.

Personalized care by trained professionals. 24/7


Beautifully furnished and decorated bedrooms and bathrooms by Ashley.


Private Bedrooms and bath rooms.


Spaciously and professionally decorated interiors all on one level.


A dedicated cook prepares delicious meal the are designed to meet the special nutritional requirements of each resident.


All Laundry,(including personal) done by our staff on site.


Daily organized group and personalized activities.


Daily housekeeping.


Individual assistance with bathing, dressing, mobility and related functions.


Satellite TV with high def flat screen in the living room.


Intercom System.


Transportation when needed.


Sacrament given each Sunday.
The best of all is the detail giving to each and every Resident by our educated and caring professional staff.
Please feel free to stop by anytime and take a tour of our homes. Don't forget to ask for a information packet on the way out. Please contact Joseph at 801-709-4847
Best Wishes, Cathy & Joseph Gebhardt
joseph
josephmg44@yahoo.com
Pleasant Grove, Utah
Providence
Cache Valley Assisted Living & Memory Care Community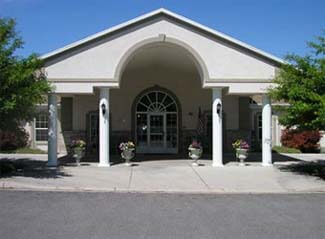 Our community features beautiful décor, wide open spaces and a caring staff. At Cache Valley Assisted Living and Memory Care Community our residents receive compassionate and personalized care, tailored to their individual need while maintaining their independent life style. Community features, services and amenities include, but are not limited to:


Spectacular mountain view


Beautiful décor


Caring staff


Compassionate and personalized care


Many in-house events
Basic services include:


3 delicious meals served daily


24-hour specially-trained on-site staff


Engaging activities


Apartment maintenance


Weekly housekeeping and linen service


Scheduled transportation


All utilities paid (phone and cable may not be included)


Emergency call systems in each apartment


Modern fire detection systems
Memory care basic services include:


Life Engagement program


24-hour specially-trained supervision


Three meals and snacks


Housekeeping and linen service


All utilities paid except telephone

Additional services offered in Personal Assistance Plan are also available, as well as respite care services.

Website: www.cachevalleyalf.com
Phone: (435) 792-4770
Salt Lake City (Cities nearby: Bountiful, Murray, Sandy, Park City)
The Wellington Senior Residence
Salt Lake is a vibrant city with an abundance of shopping, hospitals, and services
4522 S 1300 East
Salt Lake City, UT
(801) 281-3477
Sandy
Alta Ridge Assisted Living
If you are ready to make the move, or you are just beginning to look around, let us help you by explaining your options. Assisted living and Alzheimer's care available in a 24-hour care setting. Locations in Sandy, Salt Lake City, and South Jordan, Utah.
1360 E 9400 S
Sandy, UT 84093
(801) 571-1010
(801) 523-0384
St. George
St George Nursing Home
Just off of W. St. George Blvd. near Middleton. St. George is in a beautiful part of Utah with a mild and generally dry climate and great scenery.
(435) 628-0488
1032 E 100 S
St George, UT 84770
Vernal
Golden Age Center
Vernal Utah is a very green community with many trees to offer coolingshade. Vernal is an oasis in an otherwise dry plain and hosts about 8000 residents. A wonderful place to retire with its warm climate and great people
(435) 789-2169
155 S 100 W
Vernal, UT 84078
West Haven
PeachTree Place Assisted Living Community
PeachTree Place Assisted Living Community is proud to offer assisted living services in West Haven, Ogden and surrounding areas. Our facilities offer a clean, safe, and comfortable environment for all of our unique and wonderful community residents. Our caring and professional staff strive to provide a positive and caring environment for all of our residents to enjoy.

Additional Support

Assisted Living Tidbits:
Older people have more housing choices than ever before," - This from a great article from the Herald Journal in Logan Utah. It is true that we have more options for our seniors than we did even 10 or 15 years ago. We encourage anyone looking into senior housing or assisted living to take some time to research all alternatives and choices that might be in your area.
In the past 10 years, more options have become available to senior citizens in terms of housing and care, and it is important that these options are known and understood before making a decision. There was a great article by Lexie Kite in The Herald Journal in Logan, Utah about "Finding Home." From the article: "Older people have more housing choices than ever before," said Alyce Bosch, administrator of Sunshine Terrace Skilled Nursing and Rehabilitation Center. "With hospice, home health care, independent and assisted living centers and nursing homes, it's all there. In our estimation, that's a good thing.
Did you know that toxins in the environment may encourage the onset of Alzheimer's? One of the main toxic elements associated with Alzheimer's Disease is aluminum. Brain cells get tangled and then die; a study has shown that aluminum is a contributing factor in the formation of these "neurofibrillary tangles." As people age, their body's ability to detoxify harmful toxins such as aluminum decreases, and so concentrations of toxins remain and build up to unhealthy levels. If you or a loved one has Alzheimer's, there are assisted living facilities that are equipped to help manage this disease.