Tempe, Arizona - Additional Assisted Living & Senior Care Options
Join our Google+ Community & Discussion Group!
Learn More
**Selecting the 'map' for any of the facilities listed below will take you to an interactive map, as well as a recent, 'street view photo' of the facility. You may also take a 'virtual drive' down the street the facility is located on!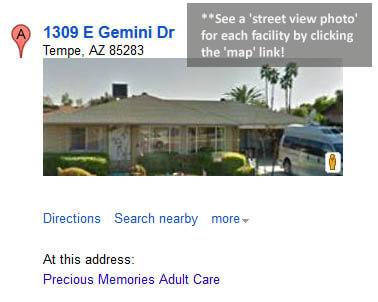 List your Facility - Any licsnesd facility in Tempe in good standing may list their services with us!

Learn facility citations, inspections and violations for facilities in Arizona, and also access a state-sponsored database of senior care facilities throughout the state!
Learn About More Facilities In Tempe Using This State-of-Arizona Resource
Assisted Living Directory wants to point out the Assisted Living Provider Search tool which is a terrific, unbiased, non-commercial way to further your research into care options throughout Arizona, including Tempe
This tool will also show you facility inspections and survey findings by the State for each facility!
Other Relevant Senior Services for Tempe
Cahill Senior Center
715 West 5th Street
Tempe, AZ 85281-3503
(480) 858-2420
Escalante Senior Center
2150 E. Orange St.,
Tempe, AZ
480-350-5872
North Tempe Senior Center
1555 N. Bridalwreath
Tempe, AZ
480-858-6510
Pyle Adult Center
655 E. Southern Ave
Tempe, AZ
480-350-5211
Assisted Living Facilities & Senior Care in Tempe, Arizona (AZ)