Alliance
Crossroads at Alliance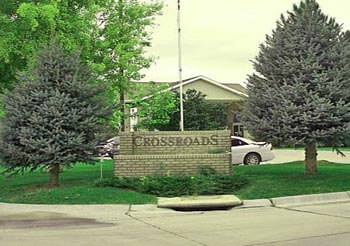 "Crossroads at Alliance is a beautifully appointed home designed for an active senior lifestyle with wide hallways, no steps, and private apartments." Services and amenities include, but are not limited to:


24-Hour staff supervision for safety and security.


Personal laundry and linen service.


Housekeeping service.


3 Nutritious home-cooked meals served each day.


Beauty and barber services.


Assistance in appointment and transportation scheduling.


Assistance with bathing, dressing, grooming, and other personal services.


Medication assistance.


Snacks.


Social activities.


Library/Chapel.

Crossroads Assisted Living
150 West 24th Street
Alliance, NE 69301
Phone: (308) 762-1615
Website: www.crossroadsatalliance.com
Chadron
Prairie Pines Lodge
Retirement & Assisted Living
900 W 7th St
Chadron, NE 69337
(308) 432-4305
Website: www.chadronhospital.com/ppl/rooms.htm
Fremont
Shalimar Gardens Assisted Living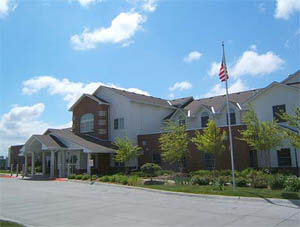 "With 65 spacious apartments, we provide a variety of floor plans to suit everyone's needs."
749 E. 29th Street
Fremont, NE 68025
(402) 721-1616
Website
Lewellen
Riverview Assisted Living Center

[Video] Entertainment at Riverview Assisted Living Center in Lewellen Nebraska - Many assisted living facilities offer full recreational and social calendars, often times including parties, music and dancing! To contact Riverview Assisted Living please call (308) 778-5351
Lincoln
Orchard Park Assisted Living
3110 S 48th St
Lincoln,
(402) 488-8191
North Platte
Pawnee Assisted Living
221 E 5th St
North Platte, NE 69101
(308) 532-6600

Omaha
Brighton Gardens of Omaha
9220 Western Avenue
Omaha, NE 68114
United States
phone: 402-393-7313
f: 402-393-7340
• Just minutes from the Medical Center
• Near interstate, shopping, and malls.
• Park-like setting in the heart of the city.
We are especially proud of our two-dementia units offering early and advance stages of care.
Home Care with the Right at Home difference!
(An alternative to assisted living)
Right at Home is a national in home care and assistance agency. We provide trained, insured and bonded caregivers for a variety of elder care services. Whether it's for extra assistance after a stay in the hospital, an aging parent who needs extra help or companionship to remain in their own home, or as a respite for a husband or wife who cares for an ailing spouse, we can help with home health care needs.
We understand what you need in home care services and want you to understand why we at Right at Home are different.
Right at Home (National Office)
11949 Q Street - Suite 100
Omaha, NE 68137 Phone: 877.697.7537
Fax: 402.697.0289
email: info@rightathome.net
Debbi
More facilities in Omaha
Scottsbluff
The Village at Regional West Retirement Homes
Congratulations to The Village At Regional West for winning an award from the National Center For Assisted Living - the second year in a row! This award recognizes the assisted living facility that has best integrated the prior year's National Assisted Living Week theme in their activity plans.
The Village At Regional West has 33 private assisted living rooms, and 10 semiprivate rooms. The minimum age is 55, and the average monthly fees are $1,001-$2,000.
The Village At Regional West offers a large variety of services and amenities from central dining to housekeeping, to transportation, and social and recreational services. The property has a library, group exercise, and a putting green!
Address :320 E 42nd St 69361
Telephone :308-630-2001
Sidney
Memorial Health Center: Sloan Estates Assisted Living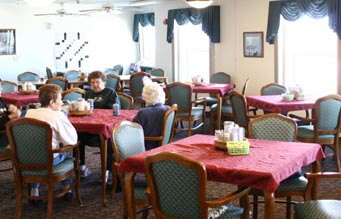 Memorial Health Center is a 25-bed, private not-for-profit hospital located in Sidney, Nebraska. Services and amenities include, but are not limited to:


3 levels of care


2 different floor plans and square footage; 475 square feet or 525 square feet


Kitchenette, dining area, bedroom, dressing area, 2 closets and a bath


Kitchenette includes an under the counter refrigerator, microwave, cabinets and sink


Living units wired for cable.


Emergency 24-hour call system in each bedroom and bath


Each unit features an individually controlled heating and air-conditioning unit.

645 Osage St
Sidney, NE 69162
(308) 254-4801