Expert Help...If You Need It!
1-866-333-6550


Assisted Living Directory
has been in service for over
10 years
! Learn how
Our Site is Different!
Learn something new today in
Assisted Living Directory's Blog!
Elder Abuse:
Report suspected abuse by calling 800-677-1116
Keep up with our future videos! 211,000 + views and counting!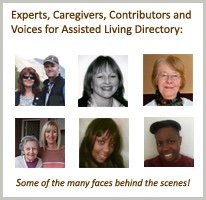 Popular Help Pages:
How To Look Up Facility Violations and Citations [Video]
Area Agencies On Aging - How They Can Help You
Managing Grief and Loneliness - In a Long-Term Care Environment
Assisted Living Tidbits
Great examples of questions asked by our visitors about Kopper Crest and assisted living
My mom is looking for a lovely place that will take ALTCS. She only has $2,000 a month in personal funds so we have applied for Medicaid over 5 months ago and am told we are almost there! Please let me know as soon as you can.
Don't be fooled by the Questionable Tactics used by many assisted living sites

Assisted Living Directory has a No Spam Guarantee!