Hello Hoosiers! The popular state of Indiana is home to 6 million and counting, causing it to be the 16th most populated state in the US. The town of Gary may be the most famous city in the state (next to that of the capital, Indianapolis) as it's the home to one of music's rising families, the Jacksons or you may have heard it through the song from The Music Man.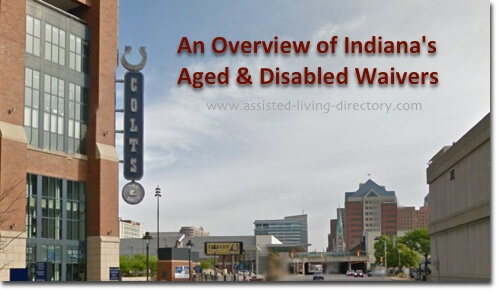 With six million and growing, Indiana's elderly population has been expected to grow since 2010, with a jump in population from 13% to that of 20%. With the baby boomers expected to grow, the state has made sure that these boomers and their families are aware of the support they can receive when looking into elder care or assisted living facilities. There are a number of different waivers that seniors and their families can apply for, depending on need, financial status, and other factors.
All of the available waivers are offered under the Home and Community Based Services, or HCBS, program that helps certain targets groups with Medicaid waivers and other services. The purpose of the HCBS is to provide individuals assistance in order to live successfully in their own homes or community settings.
The Aged and Disabled waiver, or A&D, is a Medicaid waiver for those individuals who may be facing the option of a nursing facility. Designed to provide the services to those that would require care in a nursing facility, the A&D can be used to help individuals stay in their homes, while also helping to assist those who have been in a nursing facility to return to a community setting, such as their own home, an apartment, assisted living or adult family care facilities.
The A&D provides many services including adult day care, adult family care, attendant care, home delivered meals, respite, personal emergency response systems, transportation, case management, community transition services, and more.
To be eligible for this waiver, individuals must meet the nursing facility level of care and meet Medicaid financial eligibility. Income and resources of an adult or child that is receiving the waiver is considered a part of the determination factors for financial eligibility; parental income or resources are not considered.
The TBI waiver would require institutional care if not for the very waiver and service this provides. This waiver is for individuals who have suffered a traumatic brain injury, as defined as trauma that has occurred as an open or closed head injury by an external event that results in damage to brain tissue.
As with the A&D waiver, the TBI waiver covers many of the same support and services, like adult day services, adult family care, assisted living, behavior management & programs, case management, community transition services, home delivery, personal emergency response systems, specialized medical equipment & supplies, and many others.
The MFP is actually a grant from the federal agency of the Centers for Medicare and Medicaid Services. The program helps to move individuals from institutions to that of their own home or a community based setting. Since 2007, Indiana has focused efforts on assisting those who are eligible to leave institutional care by providing services to live safely in the community.
The service provides a transition nurse and specialist to work with individuals and families to identify needs and support services and to discuss the changes that will be occurring after leaving the institution. The transition process includes helping to find places to live, along with arranging for medical, rehab, home health, and other funding in the community. Individuals are expected to stay on the program for a year, in which a case manager will coordinate and manage the scope of services, monitor their safety, and assists that their needs are being met.
To be eligible for this waiver, applicants need to currently live in an institution for at least 90 days; they must also meet the program's requirements, including having needs that can be met safely through the services, be eligible for Medicaid, and meet the minimum requirements for a funding source that is partnered with the MFP program.
As you've seen, Indiana has a variety of different solutions for individuals and their families if you're looking for assistance with housing and facilities. These are just some of the programs that the state helps to deliver, with these being targeted at the senior population, however there are others, like the Community Integration and Habilitation waiver and the Family Supports Waiver. Depending on your family's needs, these programs – also supported by the HCBS – offer support and services to those who may be disabled or have a developmental disability. Hoosiers can rejoice in knowing that their state cares about their health and aging supportive care.
Join our Google+ Community & Discussion Group!
Learn More
Further Information
Indiana's Population Projection


Indiana's Medicaid Waiver Programs


FSSA: HCBS Waiver Providers


FSSA: Money Follows the Person

Copyright © by Regina Woodard
- Article by Regina Woodard exclusively for Assisted Living Directory