How To Ensure That Your Home Environment is Safe For Those With Mobility Issues
Many of us as we age might develop chronic neurological diseases which ultimately lead us to experience gait and mobility issues. This problem, however, is not unique or confined to persons with neurological diseases. As we age, our balance begins to wane as does our sight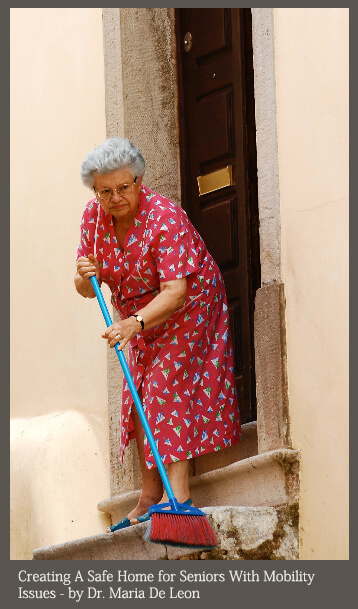 and hearing causing severe gait and balance issues even if no other medical problems exist predisposing us to frequent falls.
For this reason, many physicians, social workers as well as other family members may suggest that a loved one move to or be placed in a long-term care facility. Safety in and around the home is the number one priority for all involved.
However, before you and your loved ones make the life altering decision to move into a facility, take a look at some of the tips below to ensure that the home environment in which you reside is safe and secure for you or your loved one to continue to live in.
When a person gets diagnosed with a progressive neurological disease, like Parkinson's, Multiple Sclerosis, Alzheimer's, Strokes, or Neuropathies (loss of nerve endings), they should start anticipating ways to handle future problems and adapt the home for such impediments. These steps should begin at the time of diagnosis even before the person becomes fully disabled or unable to ambulate.
Of course the best way to remain at home and independent is to engage the expertise of both a physical therapist as well as an occupational therapist. They, too, can help to give advice and recommendations on how to safe guard the current living quarters as well as help maximize function within the home. For instance, they can help you navigate stairs if you have them.
But, if you do live in a two- story home or have one with stairs you may need to consider moving to a single story home or making some few upgrades to get rid of the steps. One story dwellings are not just easier to get around for those in wheelchairs or for those using other assistive walking devices but also for those who fatigue easily.
The best people to obtain information from and tips on how to fix, adapt, and modify a home, or living quarters in a facility for neurological disorders as well as for those suffering any type of mobility problems is other persons suffering from similar diseases.
If you or your family has already opted for an assisted living facility or nursing home, look for one with a functional design that works for elderly, young, able-bodied, cognitively disabled as well as physically disabled. Find one with wide corridors, entrances, and walk-ways which would allow for easy maneuverability whether you are using a u-walker, wheelchair, or scooter.
Make sure that wherever you call home - whether it be room in a facility or a deluxe apartment in a gated community, there are no stairs at entrance of home or facility nor steps or height differentiations to get into the shower (consider a walk-in bathtub). In an assisted living facility or nursing home, recommend that you look for railings in the hallways. Also important to look at nurse to patient ratio to make sure someone is readily available to help if the need arises. If living outside a facility out in the community, one should try to look for places with a doorman or concierge who can be called upon if assistance is needed.
Lastly, whether you decide to stay at home or be transferred to a facility look to make sure there are no "doorway saddles" - those pesky pumps which transition one room to another. These can be particularly dangerous and a source of frequent falling and tripping for those who have neurological disabilities and difficult for those in wheel chairs to maneuver.

However, because Parkinson's patients often have 'freezing' episodes and require some visual transition to go from one room to another instead of bumps, I recommend placing a colored line on the transition parts from one room to another to allow patients to flow easily without getting stuck.
Along with the above suggestions for increased safety, you may take advantage of technology by making use of wirelessly systems, such as wireless controlled TV, temperature control, and lighting. You may also install large control panels on wheelchairs, scooters, by the bedside or wherever you may need them and even have voice activated controls if dexterity or motor function is limited.
The one important thing to remember is that there is no one single way of modifying a home or living quarters when dealing with a progressive neurological illness. The best thing to keep in mind is to make the modifications to your specific needs, have fun with it and above all make it safe for you to live in.
Sources:
You can obtain more information along with a resource guide to modify your home whether it is out in the community or in a facility like an assisted living to make you safer and more secure by logging into www.AbleData.com

Photo of the elderly woman sweeping the stairs by P. .R Simões Attribution 2.0 Generic (CC BY 2.0)
Shaw, G. (February / March 2015): There's no place like home" Neurology Now 42-43.
Copyright © 2015 by Maria De Leon
Article by Dr. Maria De Leon, MD exclusively for Assisted Living Directory
Join our Google+ Community & Discussion Group!
Learn More