Great questions that we have received about Golden Dreams - and assisted living that can serve as examples of the types (and thoroughness) of questions that you might consider asking potential facilities:
Q: What are your rates and do you accept ALTCS?
**Assisted Living Directory has a help page that is dedicated to assisted living and ALTCS. We did a survey of Arizona Facilities to find out approximately what percentage take ALTCS as payment. We also discuss eligibility, and how to sign up for the program.
Q: Do you offer recreation and therapeutic activities for your residents? Do you have an activity director? How many and who are your residents? Are you governed by the fed or state?
Q: What are your rates for an 81 year old man on oxygen 24/7. He can bathe himself and dress. He needs meals prepared, laundry and house keeping
Q: Can you provide me with the rates that you charge? Do you have private rooms and what is your availability like?
Q: Do you take medicare and how long does it usually take to get a placement? - Pauline
Q: I am looking for an assisted living situation for my brother who is semi healthy but does not walk very well due to some nerve damage. He is 73 and still believes he is independent enough to take care of himself, but he is not. He has medicare, Medicaid and AHCCS, his income is around 800. a month. Would this facility be available to him?
Q: Hello. I am looking for an assisted living home for my mother. She is 75, self administers blood pressure meds, but needs help with other things. She is mentally alert and physically active. Likes to take walks and chat with friends. My job does not allow me to live here year round and I am uncomfortable being away for months at a time and leaving her in the house alone. Could you give me an idea of the costs involved and availability?
Hello I am inquiring if you have a room available for my elder bedridden father with cancer. Please let me know the monthly rate and if you accept ALTCS (we are awaiting approval). My father is under Hospice care at my sisters home and it is too much for us to care for him. Thank you
- Louann
Q: I have a friend who has Parkinson's Disease, presently living in a group home in Tucson. I would like to find a place for him in N. Phoenix where i could help him more. - Charles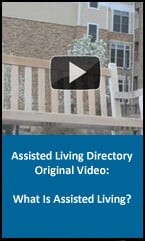 Don't be fooled by the Questionable Tactics used by many assisted living sites

Assisted Living Directory has a No Spam Guarantee!