Find Assisted Living in Fairbanks, Alaska - Certified Senior Care Advisors
Our certified consultants will help to identify your assisted living needs, and help you through every step of the process. Our Advisors have received their Certified Senior Advisor certification to earn their expertise in Fairbanks, Alaska. Our service is 100% free to you!
---
3 Easy Steps In Finding The Best Senior Care In Your Area
Our Senior Care Consultants Will Perform:
Step One- The Assessment/Interview
Identify your loved one's care needs and preferences
Identify personal preferences/location
Identify hobbies and lifestyle preferences
identify budget preferences
Step Two- "Matching Needs & Preferences"
They will then "match" all the information from Step One and narrow down your options to 3 or 4 pre screened and CarePatrol approved care providers.
Step Three- Tour Our Recommendations
Our Senior Care Consultant can personally bring you to our recommendations for a tour (much like a realtor does) or if you would rather go by youself, we can arrange the details of your tour accordingly.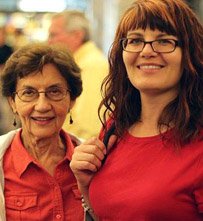 This page has been created to serve as a starting point for your research into assisted living in Fairbanks.
Each facility may be contacted directly and safely!
Fairbanks, Alaska - Caregiving Resources: Plentiful, with an Emphasis on Care
Intro by Trish Hughes Kreis
The average annual temperature in Fairbanks, Alaska may only be 32 degrees F in its warmest year (1981) but the extraordinary resources available to seniors will quickly warm your heart. From state agencies to nonprofits providing meals and a social setting to Native American organizations putting the needs of elders first, the resources in Fairbanks for seniors are vast.
As a senior or a caregiver looking for resources to help a loved one, the North Star Council on Aging is a wonderful place to start. Chris Malmberg, Office Manager of North Star Council, describes the organization as, "a connection service" for seniors. North Star Council on Aging not only provides lunch and social activities Monday through Friday but also is a referral center for those looking for additional resources. They provide transportation to and from the facility and deliver meals through the Meals on Wheels program year round "up to 50 degrees below" (oh, is that all?).
The North Star Council on Aging was formed as a non-profit in 1973 is a "comprehensive agency to serve the needs of the elderly within the Fairbanks area." The North Star Council on Aging provides a recreational day center for seniors as well as nutritious meals and information about other services available to seniors. This agency does not charge a fee as it is entirely supported through state, federal, city and private funding. Learn more about the NSCOA by calling: (907) 452-1735 (More general information continued after facilities section)
[Video] How To Get A State Supplied Facility List for Fairbanks
Video Produced by Assisted Living Directory
You'll also learn which facilities accept the Alaskans Living Independently (ALI) Waiver
888-723-8284Pricing & Availability

Fairbanks Assisted Living: Featured Facilities & Services
The home is exceptionally clean and tastefully decorated with works of local artisans. A sunlit living room and dining area with panoramic views make the short winter days more enjoyable. Summer days can be spent enjoying the gardens or relaxing on the screened-in porch.
866-981-5725
Pricing & Availability
Features and Photos
There is absolutely no cost to you or your family for using this service!
We've helped 1000's of families!
Read A Personal Experience Using Our Senior Care Advisors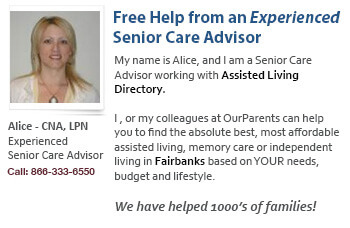 1-866-333-6550Pricing & Availability

Assisted Living & Senior Care Options for Fairbanks
107 7th Ave # 1 Fairbanks, AK 99701
(907) 479-0360
888-502-2057
Pricing & Availability
Map
2221 Eagan Ave Fairbanks, AK 99701
(907) 456-4372
A Non-Profit Assisted Living Home
877-345-1716
Pricing & Availability
Map
Other Relevant Senior Services for Fairbanks
1424 Moore Street
Fairbanks, Alaska 99701
(907) 452-1735
888-981-6827Pricing & Availability

Assisted Living Learning Center: Tips and Tutorials
Cancer and Assisted Living: As we mentioned in the introduction to our Fairbanks assisted living page, Cancer is now becoming a much more accepted "condition" for people in assisted living or long-term care environments (dispelling the outdated myth that assisted living can only serve those who are elderly, or with memory disorders). Whether it is active Cancer, treatment, or post-chemo issues, assisted living can be a viable option for those who can no longer care for themselves independently. The following video interview was produced by Assisted Living Directory, and features a daughter who is coping with her mom's diagnosis, and considerations for housing - which include the possibility of assisted living.
Video Produced by Assisted Living Directory
888-985-4427Pricing & Availability

Additional Information for Fairbanks
Continued from above
Homebound seniors are particularly at risk during the long winter months in Alaska and the North Star Council not only provides meals, social activities and transportation but essential referrals to other agencies and resources. North Star Council on Aging is but one safety net in n area where, as Chris says, it is very dangerous to go without a safety net." Chris enthuses that North Star Council on Aging is geared toward maintaining autonomy" for seniors while being an integral part of that safety net. Learn more about what agencies on aging may be able to offer in terms of services, programs and assistance.
Additional local agencies in Fairbanks include the Fairbanks Native Association (http://www.fairbanksnative.org) whose mission is "to provide quality services in a professional manner for its membership and the greater Fairbanks community. These services are provided through special and innovative programs which preserve the membership's unique lifestyle and culture, while improving the quality of life for the community." The Fairbanks Native Association preserves the local culture of taking care of their elders.
In addition, a transportation service known asthe Van Tran provides transportation for the elderly and disabled, an essential component to finding and accessing resources. More information on how to apply for this service can be found in their handbook at http://www.co.fairbanks.ak.us/transportation/Van_Tran_Handbook.pdf.
State resources can also be of assistance at the local level. The State of Alaska provides for Aging & Disability Resource Centers throughout the state. (http://hss.state.ak.us/dsds/grantservices/adrc.htm) These Resources Centers connect seniors or those with disabilities or their caregivers with resources available throughout the state. Resources are available through these centers for people of all ages and income levels. (The North Star Council on Aging is one such resource center).
In addition, many states offer a Waiver Program for home-based care, or funding for an Assisted Living Facility or Skilled Nursing Facility. Alaska is no exception. Information on the waiver programs available (and there are several depending on the situation) can be found at (http://www.hss.state.ak.us/dsds/grantservices/hcbwaivers.htm). As in other states, eligibility requirements vary and can be very specific. It is important to check the State of Alaska, Health and Human Services' website or contact the agency for specific eligibility requirements.
Additional educational and support resources specific to certain conditions are also available online.