Claymont
Captain's Deck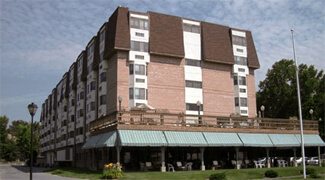 Keep your active lifestyle with the reassurance of assisted living. The community has a beautiful lobby with a fireplaces, fully staffed beauty salon, full-service dining room, library, a chapel for religious services, and private areas for special occasions.
Some of our services include:


Basic Housekeeping


Utilities (excluding telephone)


24-hour security


Transportation for medical appointments


Licensed nurses on site 24 hours


Trips, activities, speakers and entertainment


Exercise classes


Wellness programs


Scheduled transportation


Maintenance and repairs

(302) 798-3500 • 7807 Governor Printz Blvd # 1 • Claymont, DE 19703 • Website: www.captainsdeck.net
Georgetown
Stockley Center Assisted Living
26351 Patriots Way
Georgetown, DE 19947-2575
302-934-8031
State Licensed Beds: 15
Habeson
Peach Tree Acres Assisted Living
26900 Lewes-Georgetown Highway
Harbeson, DE 19951-2855
302-684-4002
State Licensed Beds: 20
Hockessin
Cokesbury Village Assisted Living
726 Loveville Road
Hockessin, DE 19707-1519
302-234-4444
State Licensed Beds: 49
Windsor Place
6677 Lancaster Pike
Hockessin, DE 19707-9503
302-239-3200
State Licensed Beds: 66
Lewes
Cadbury at Lewes, Inc. Assisted Living
17028 Cadbury Circle
Lewes, DE 19958-7028
302-645-6400
State Licensed Beds: 45
Middletown
Serenity Gardens Recuperation Center
207 Ruth Drive
Middletown, DE 19709-9470
302-449-1708
State Licensed Beds: 3
Milford
Delaware Veterans Home Assisted Living
100 Delaware Veterans Blvd.
Milford, DE 19963-5395
302-424-6000
State Licensed Beds: 30
Heritage at Milford
500 S. DuPont Highway
Milford, DE 19963-1758
302-422-8700
State Licensed Beds: 80
Newark (Cities nearby: Elsmere, New Castle, Claymont)
Millcroft Assisted Living
255 Possum Park Rd.
Newark, DE 19711-3877
302-366-0160
State Licensed Beds: 36
Somerford House
501 South Harmony Road
Newark, DE 19713-3338
302-266-9255
State Licensed Beds: 72
Somerford Place
4175 Ogletown-Stanton Road
Newark, DE 19713-4168
302-283-0540
State Licensed Beds: 52
The Gardens at White Chapel
200 E. Village Road
Newark, DE 19711-3845
302-366-8100
State Licensed Beds: 132
Rehoboth Beach
Brandywine Assisted Living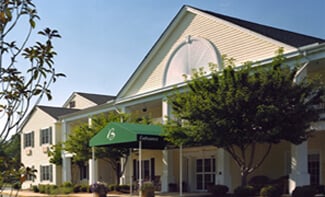 "If you are looking for senior living for yourself or a loved one, you've come to the right place. Exquisite surroundings, friends and fun, excellent nursing care, state of the art therapy and a team of people like no other in the senior care industry."


Comfortable living - Exquisitely designed and decorated


Fabulous dining - A wide range of appetizing choices


Arts & Entertainment - Full social calendars and a goal of assisting you in maintaining your present leisure interests, while rediscovering past hobbies. We'll help you experience new skills through the arts and entertainment program.

(302) 226-8750 • 36101 Seaside Blvd • Rehoboth Beach, DE 19971 • Website: brandycare.com
Seaford (Cities nearby: Bridgeville, Georgetown)
Methodist Manor House Assisted Living
1001 Middleford Road
Seaford, DE 19973-3638
302-629-4593
State Licensed Beds: 75
Seaford Center
Our Quality Healthcare Units provide skilled nursing, medical and rehabilitative care for patients and residents.
Our Services:


LongTerm Care


ShortStay Care


Assisted Living


Rehabilitation Therapy


Transitional Care Units
(302) 629-3575 • 1100 Norman Eskridge Hwy • Seaford, DE 19973
Selbyville
Brandywine Assisted Living at Fenwick Island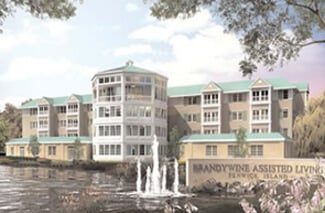 This is a beautifully landscaped seashore community located between the Atlantic Ocean and the inland bays of southeastern Delaware.
Our Services and amenities include, but are not limited to:


Game room w/billiards table


Music room with a grand player piano


Movie theater


Variety of dining options and venues


Snacks available 24 hours a day


Diverse menu


102 resident suites


Comfortable floor plans


Suites equipped with kitchenette


Private bathrooms


24-hour emergency response system in each suite


Our Reflections Program is designed to provide assistance to residents with dementia and other memory impairments


Respite care is available for short-term stays
At Brandywine, Life is Beautiful.
302-436-0808 • 21111 Arrington Drive • Selbyville, DE 19975 • Website: brandycare.com
Additional Support
Still Need Help Finding Senior Care? Check out the State of Delaware's List of Licensed Assisted Living Facilities!
We Can Help To Place Your Loved One Anywhere in Delaware! We can answer simple questions about senior care too!

---

A quick and personal story about this service:

Not too long ago, David, the founder and editor of Assisted Living Directory was suddenly scrambling to help find an assisted living facility for his mother-in-law who was in failing health. David was in a different state, which complicated things even further.

David, being pressed for time, decided to use a qualified, experienced senior care consultant - as is featured here.

This service was a lifesaver. He was immediately connected with Grace - a longtime, qualified and really friendly and courteous senior care advisor.

Her help saved David so much time, aggravation and confusion.

The best part was - the service was free. You can read about David's experience with a senior care advisor in our blog.

If you are looking for any category of senior care in Delaware - from assisted living, Alzheimer's care, to independent living - and if you are stuck, confused, or pressed for time, we highly recommend giving it a try. You'll most certainly be surprised at how much they can take off of your plate.