Assisted Living Tidbits
Great questions we have received from our site visitors about Cape Villa and assisted living - these questions may serve as examples of the types of questions you might ask facilities you are considering:
Hi, my name is Stephen, and I was considering a move to be closer to my sister who lives in Cape Coral. I am a cna with approximately 20 years experience in the health care field. I was wondering if you had any openings. Please contact me at your convenience.
I am looking for assisted living for mother in law. Needs to be affordable $1300 per month is doable. Contact me via email please.
My father is at cape rehab now and needs help to stand up and go to the bathroom is in wheelchair full time but making progress had stroke 7 months ago I got him on medicaid do you accept medicaid or subsidized payments?
I need a short term (2 week) stay for my mother who is 87 and mobile. Seeds minimal assistance. Do you provide space for short-term stays, and is the cost different from that of longer-term care.
My dad has Parkinson's and Lewy Body Dementia and is in need of long term assisted living because he is losing strength in his legs and arms. Do you have the capability of housing someone like my dad?
Please provide rates and availability for a couple. Do you accept Alzheimer patients. We are an elderly couple in 85 & 80 yrs. We are exploring where we could find a community of elders with affordable living with support & facilities if any need arises in our sun-set years. is there an entry fee
My mom had a stroke a few weeks ago also is diabetic and she is now living with me. She is very unstable, and needs assistance with everyday living. I have to work full time and she is alone all day. She has fallen 2 times now since she was released from the hospital fortunately I was home when this occurred. She has only social security as income and no other assets. her kids live week to week and myself also take care of my son who is a recovering addict. Please any information would be greatly appreciated. We live in Cape Coral and would like her close to her kids. Thank you very much for any information you can provide me.
Where can I find the criteria for Veteran's Assisted Living admission? I am interested in cost, condition, and other common questions. I have a heart condition and suffer dizzy spells but otherwise am okay. I can drive, am licensed, and own a vehicle.
I would like to set up a visit. Do you accept medicare/medicaid? My mother currently resides at another facility that we are not happy with. We would like to move her as soon as possible into a compassionate environment.
There is the possibility of my father moving to your area. I need information about your facility. He is presently living at NHC Place of Anniston, Al. I need the cost per day for a large one room apartment.
Hi I am interested in finding a place like this for my grandmother. My questions are: Pricing, how many people are there max at a time, and how many rooms do you have open now at Cape Villa?
Good Morning, My name is Tami and I have a few questions for my Mom. First of all do you take Medicare which is disability and also Medicaid, she does have section 8 housing, and she is only 63. If you can help me at all or lead me in the right direction of someone who can help me. I thank you in advance for your help in any way.
Do you take long term Trach patients?
I am looking for a facility for my elderly parents in Ft Meyers.. My mom is in the hospital recovering from a stroke, and my father shows signs of dementia. They refuse to leave where they are, have social security and medicaid and medicare. - Marcia
***A good article for you to read - Stubborn Seniors - which discusses the problem of seniors not wanting to move or relocate. - ALD
Q: Inquiry: What are the costs of respite care for a one week stay for an elderly parent, 89 year old woman, mobile and self sufficient but afraid to be left alone. I am presently at work so please respond via email. Thanks. - Donna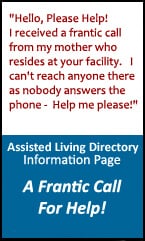 ---
Subscribe
Don't be fooled by the Questionable Tactics used by many assisted living sites
Assisted Living Directory has a No Spam Guarantee!