Bloomfield, Michigan is tucked into the flanks of the northwest corner of the Detroit Metro area, just to the south of Pontiac. Bloomfield, if you look at a map, is a combination of Bloomfield Township, and West Bloomfield Township.
Interestingly, we were surprised by how many people live in Bloomfield Township. As of this writing, there are 41,042 residents living here, and even more amazing is the percentage of seniors living in the Township - 8,046 of Bloomfield's citizens are over the age of 65, which represents a whopping 19.6 percent of this population. The amazing part of it is when you compare this to our national average of 12.6 percent. Naturally, with this number, there is most certainly a need for assisted living, as well as good senior services in the Bloomfield area. Thankfully, there are!
To find senior services in Bloomfield, we went straight to the Bloomfield Township Website, and typed in 'seniors' into the search box at the top right of the page. Immediately, we were presented with quite a bit of information. One of the most unique services that Bloomfield offers to it's seniors is a wonderful "Seniors E-News" township mailing list that anyone can sign up for, and that will periodically e-mail subscribers information and items relevant to
Bloomfield Township Senior Services. What a great way to stay connected!
In addition, Bloomfield offers a number of general and supportive services to it's elderly residents. Programs like home-delivered meals, small home repairs and maintenance, support groups, transportation to and from medical appointments, errands transportation, as well as health information, screenings, and opportunities to volunteer.
Bloomfield Township also has a new senior center located at 4315 Andover Road, Bloomfield Hills and the phone number is(248) 341-6450. We found a great video that offers a guided tour of this beautiful new 24,000 square foot facility. There are two levels - a main, and a lower level. There is a fitness center, community rooms, a cafe for seniors to be able to have a meal before or after classes. The community rooms can accommodate a large event, or can be broken down into several smaller events or classes. Rooms can also be used for various club meetings and activities.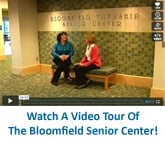 Seniors can also use the computer lab at the community center and receive hands-on instruction about how to use the computer, e-filing taxes, and how to use e-mail and the internet.
Independent seniors, and those who reside in an assisted living or long-term care environment in the Bloomfield area can also greatly benefit from the services and programs offered by the Detroit Area Agency on Aging, which exists to educate and advocate for local seniors, as well as to promote and encourage healthy aging. This agency also offers a Resource Guide for Seniors and Caregivers that lists hundreds of resources for seniors as well as adults with disabilities. The guide can be ordered by calling 313-446-4445.