Anthem
Welcome to Anthem Senior Living (ASL)
40401 N. Copper Basin Trail
Anthem, AZ 85086
More Info
Benson
Country Style Assisted Living Home In Cochise County
Arizona Skyline Assisted Living Home, LLC
311 N Saddle Vista Road
Benson, Arizona 85602
520-780-8286

For Benson, Az Assisted Living Home call 520-780-8286
Arizona Skyline Assisted Living Home, LLC
PO BOX 513
Benson, Az 85602
Shay
Bisbee
Dulce Hogar Assisted Living Residence
(520) 432-2481 • 3 Cuprite St Bisbee, AZ • 85603
Bullhead City
Sunridge Village Retirement and Assisted Living Community
Sunridge Village is a Retirement and Assisted Living Community in warm & sunny Bullhead City, Arizona. The property features 142 private apartments. Each apartment an individual climate control system, carpeting throughout, and a private bathroom. Each suite opens to an inner courtyard and pool area that is gated for security. The area is beautifully landscaped and is a casual and comfortable setting.
Other amenities and features:
* Salon
* Library
* Gardens
* Recreational Rooms
Contact Information:
Sunridge Village Retirement and Assisted Living
839 Landon Drive
Bullhead City, Arizona 86429
Phone: (928) 754-0700
Fax: (928) 754-1225
Casa Grande
Olive Branch Assisted Living
(520) 421-0071 • 1121 N Olive Ave • Casa Grande, AZ 85222
Chandler
Desert Harmony Assisted Living
Located just a few blocks from Chandler Regional Hospital, San Marcos Golf Resort, and just a few minutes from Chandler Fashion Center!
(480) 726-1797 • 1510 W Saragosa St • Chandler, AZ 85224
Coolidge
DESERT OASIS ASSISTED LIVING HOME LLC
THE QUALITY AND CARE YOU DESERVE, GOOD FOOD AND A HOMEY ATMOSPHERE.
LOLA
lolamsherman@yahoo.com
Cornville
Assisted Living at its finest!
Page Springs Living
Assisted living in a beautiful rural setting. Enjoy the magnificent views of the Red Rocks and watch the moon set over Mingus Mountain. Receive loving care from our certified caregivers. You may choose from a private or semi-private room. We offer medication assistance, laundry service and housekeeping at no extra charge. Our healthy, balanced meals are served three times a day. Three different common areas are available to meet your needs and our outside patios are always inviting. You will enjoy watching the many ranch animals. Come by for a visit at any time.
995 S. Page Springs Rd.
Cornville, AZ 86325
928-649-0588

Cornville
Arizona
AL8262H
Cottonwood
Carefree Assisted Living Center
"Carefree offers a gracious hacienda style home for your loved one in beautiful Cottonwood, Arizona. Come join us for a truly wonderful living experience. The very best in Northern Arizona." This facility is licensed by the State of Arizona. Services and amenities include, but are not limited to:


Beautifully decorated home


A beautiful courtyard that includes a pond, trees, and plenty of flowers


Inviting, spacious dining room


Secure facility


Delicious home cooked meals


Medication management


24-hour care and supervision


Laundry and housekeeping


Cable television


Nurse on staff


Assistance with all levels of personal care.

There are also several optional services including, but not limited to:


Respite Care


Wireless internet


Beauty/Barber services


Transportation to Doctor Appointments


Physical Therapy

(928)649-9624 • 22 S. 7th Street • Cottonwood, AZ 86326
Douglas
Cypress Inn Assisted Living
(520) 364-7232 • 757 E 12th St • Douglas, AZ 85607
Flagstaff
Grandma's House In The Woods LLC
(928) 635-6750 • Flagstaff, Arizona 86046 - 9408
Gilbert
HH Home Plate Assisted Living
Home Plate is a family owned and operated 10 resident assisted living home located in Gilbert, AZ. We have lots of country quiet with the convenience of the city.
For more information visit our website http://homeplateassistedliving.com or give us a call (480) 964-3508. We look forward to hearing from you!
Rachel Harper

AL8103H
Glendale
Park View Assisted Living in Beautiful Glendale
Licensed Assisted Living at Park View offers private rooms, home-like setting and family atmosphere. Couples may reside together, with assistance for one or both. You will find a better Senior lifestyle with us;
* Three Nutritious Meals Per Day
* Safety Features including Smoke Detectors
* Ample Closet Space
* Wall to Wall Carpeting
* Dish Network Television
* Medication Management
* Daily Laundry Service
* Daily Housekeeping
* Scheduled Transportation
* Landscaped Outdoor Backyard
* Library & Beauty/Barber Shop on Call
Please visit www.parkviewaz.com
Globe
At Home Solutions (an alternative to assisted living)
At Home Solutions provides assistive home care to seniors and persons with disabilities.
(928) 425-6200
222 W Hackney Ave
Globe, AZ 85501
Holbrook
Holbrook Extended Care Facility (an alternative to assisted living)
216 Joy Nevin Ave
Holbrook, AZ 86025
(928) 524-2344
Directions: From interstate 40, take the W. Hopi Drive exit until you are just east of S. Navajo Blvd. Go south on S. Navajo Blvd, and then go East on Joy Nevin Ave about 1 block.
Kingman
White Oaks Assisted Living
(928) 757-9145 • 3862 N Melody St • Kingman, AZ 86401
Lake Havasu City
Prestige Assisted Living at Claremont
This 28 unit community is located in a quiet, yet easily accessible, area. Once inside you'll find a welcoming staff eager to provide service and support.
928.855.4843 • 1221 Claremont Drive • Lake Havasu City, AZ 86406
Mesa
Eco-Friendly Upscale Assisted Living Private Home in Mesa Arizona
Crismon Peaks Assisted Living
10027 E Hillview Street • Mesa AZ 85207 • info@crismonpeaksassistedliving.com
New River
L.Y.F.E = Love your family every day
Our Goal is maintaining independence and ensuring the highest quality of life, while providing a warm loving environment for our new friends and families.

Our commitment to delivering superior service is promoted by good nutrition, moderate exercise and strong family values for a healthy, active lifestyle.
Ashlie Scara
lyfecare@yahoo.com
Nogales
LA Paloma Home for the Aging
(520) 377-2255 • 2064 N Calle Trinidad • Nogales, Arizona 85621
Oro Valley
Clare Bridge of Oro Valley (A Brookdale Senior Living Community)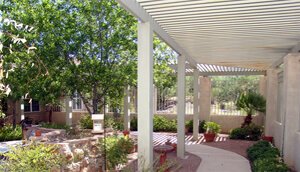 Alzheimer's and Dementia Care Community
Unique Features:


Our community offers a home like environment, which is ideal for individuals with memory loss.


Emergency Response system 24x7


State of the art fire safety system


Handicapped accessibility


Library


Full-service salon offers hair styling, manicures, pedicures, facials and other skin treatments.


Outdoor, Enclosed Courtyard


Outdoor Gardening Areas


Full service dining room


Private Dining Room - offers a more intimate setting for celebrations with friends and family


Spacious Family Room

Clare Bridge of Oro Valley
10175 North Oracle Road
Oro Valley, AZ 85704
Request Assistance/Information via phone: 866-965-2817
Page
No facilities at this time for Page
Payson
Powell House
Payson's Powell House, a licensed assisted-living facility, offers senior citizens and disabled adults an option that combines both care and independence.
806 W. Longhorn Road.
For more information, call (928) 474-6249.
Phoenix
Abundant Joy Assisted Living Home LLC
2836 S 66th Avenue
Phoenix, AZ 85043
Phone: (623) 544-4318
Fax: (602) 503-4538
Abundant Joy started as a family business. Anna Carl, Owner, and her sister, Janet Stewart, searched for months to find a quality care home for their mother. When it became apparent that nothing met their expectations, they joined forces and created Abundant Joy ... a truly wonderful home away from home for adults in need of quality care where each resident is treated just like family.
Prescott
Las Fuentes Resort Village
Prescott's Premier Full Service Retirement Community
(928) 445-9300 • 1035 Scott Dr • Prescott, Arizona 86301
Safford
Sunset Gardens Senior Care
A senor housing facility offering assisted living.
(928) 428-5500 • 1766 N Sunset Blvd • Safford, AZ 85546
Scottsdale
Laurel House Assisted Living
NOTHING IS AS IMPORTANT AS TAKING EXTRAORDINARY CARE OF OUR CLIENTS THAT'S WHY WE ENSURE THAT OUR RESIDENTS ARE PROVIDED WITH A COMFORTABLE, SAFE AND PLEASANT ENVIROMENT, GREAT ACTIVITIES AND FUN ATMOSPHERE. WE OFFER PRIVATE AND SEMI-PRIVATE ROOMS,DELICIOUS HOME COOKED MEALS AND PLENTY OF NUTRITIOUS SNACKS. WE ALSO PROVIDE COMPLETE MEDICATION MANAGEMENT AND OTHER HOME SERVICES ARE ALSO AVAILABLE UPON REQUEST OR SPECIFIC NEEDS.
Natasa
natasa_korac@yahoo.com
Sedona
Sedona Winds
Assisted Living & Memory Care: Sedona Winds is an assisted living community located in one of the most beautiful places on Earth - Sedona! Dine with nature in the Grand Dining Room, and take in the view of the surrounding spires, cliffs, and red rocks! Services at Sedona Winds assisted living range from minimal supervision to total assistance with all activities of daily living, as well as incontinence care and the administration of medications.

928-284-5077 • 475 Jacks Canyon Rd. • Sedona, AZ 86351 • Website: www.sedonawinds.com
Sierra Vista
Alzheimer's Care in Beautiful Sierra Vista, AZ!
Welcome to Garden Terrace Assisted Living, a state-licensed assisted living home located in a quiet residential setting in beautiful Sierra Vista, Arizona.
Hoe much time do you spend caring for a loved one with Alzheimer's or dementia? How much of that time is true QUALITY time? We can help!
Why fill your day with worry? Meds, groceries, bathing, transfers? Leave it to us! 24-hr, wide-awake, state-certified staffing (with background checks and AZ fingerprint cards). Nutricious meals, great activities, loving staff and personalized care.
We accept Long-Term Care Insurance, Visa/Mastercard, cash, check and ALTCS. Call now or visit our webiste for more information!
www.azassistedliving.info
(520) 459-0005
Sierra Vista
AZ
Daniel
Prestige Care Sierra Vista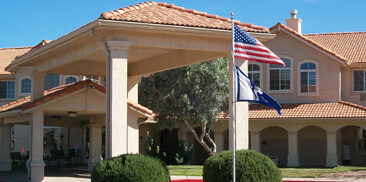 Prestige Assisted Living at Sierra Vista is conveniently located just off Highway 92 with 360 degree views of the surrounding mountains. Pet Friendly!
24-hour Room Service Diabetic Management Expressions Memory Care Coordinate Hospice Care Meal Service Pet therapy Restaurant-Style Dining Retreat Stays Special Diets Volunteer Program
CONTACT INFO:
4400 Avenida Cochise
Sierra Vista, Arizona 85635
Phone: 520.452.1402
Fax: 520.452.9757
Executive Director: Lezlee D. Smith
Snowflake
Webb's Adult Care Home
(928) 536-2726 • 48 E 1st St S • Snowflake, Arizona 85937
Sun City West
Epoch Assisted Living of Sun City West
Orange Garden Assisted Living
Luxury furnished facility,24 hours nursing stuff,licensed to provide assistance in bathing, grooming,continence issues, medication taking, mobility, meals and housekeeping.Private and semi-private rooms available. Affordable prices.
Sun City
AZ
Mira
mirat@iwon.com
Surprise
Assisted Living Home
Ventura Manor is licensed for all levels of care by the AZ Department of Health. 24 hr assistance is provided by certified and experienced caregivers.Services include but not limited to: bathing, grooming, nutritious home cooked meals (special diets accomodated), snacks, medication assistance,laundry service.
Surprise
Arizona
Nelia
venturamanor@yahoo.com
SUN VIEW ESTATES HOME CARE II & III
NOTHING IS AS IMPORTANT AS TAKING EXTRAORDINARY CARE OF OUR CLIENTS THAT'S WHY WE ENSURE THAT OUR RESIDENTS ARE PROVIDED WITH A COMFORTABLE, SAFE AND PLEASANT ENVIROMENT, GREAT ACTIVITIES AND FUN ATMOSPHERE. WE OFFER PRIVATE AND SEMI-PRIVATE ROOMS,DELICIOUS HOME COOKED MEALS AND PLENTY OF NUTRITIOUS SNACKS. WE ALSO PROVIDE COMPLETE MEDICATION MANAGEMENT AND OTHER HOME SERVICES ARE ALSO AVAILABLE UPON REQUEST OR SPECIFIC NEEDS.
SURPRISE
ARIZONA
ANGELA & CALIN
sunviewestateshomecare@yahoo.com
Tolleson
Gabriel's Home Care
Small Group Home providing services for four residents. Group Home Owner/Manager is a Hospice Social Worker. 623.907-3941/602.300-6770. Located in the West Valley near Avondale,Buckey,Litchfield, Phoenix.
Angelle
ingraay@hotmail.com
Tolleson , AZ
Tucson
Broadway Proper
400 South Broadway Place
Tucson, AZ 85710
(520) 296-3238
Broadway Proper offers the beauty and serenity of a desert oasis conveniently located in the heart of Tucson, Arizona, featuring luxurious apartment homes in a fun and active retirement community. We are very proud to be managed by Leisure Care, who, for over 30 years, has led the industry in the development and management of elegant retirement communities that are all about Five-Star Fun. At Broadway Proper we have set colossal standards for quality and choice in guest services, amenities, resort-style living, and in all things "fun." It is no wonder Leisure Care's legendary commitment to quality and service has earned the trust of thousands of residents and their families.
Wickenburg
No facilities at this time for Wickenburg
Winslow
No facilities at this time for Winslow
Yuma
Paradise Oasis Assisted Living
(928) 329-0481 • 8691 S Mohave Ln • Yuma, Arizona 85364
Looking For Further Information?