Anchorage
A place of safety, comfort, security and peace in your Father's Arm.
MY FATHER'S HOUSE ASSISTED LIVING HOME
6951 Shane Place,Anchorage, AK 99507
Services provided:


Three nutritious meals daily


Snacks available throughout the day


Reminders with medication and appointments


Assistance with bathing and hygiene care


Weekly housekeeping and daily trash removal


Three time a week personal laundry (except dry cleaning)


Referral to counseling and community resources


Recreational, educational and hobby programs


Utilities (excluding cable and phone)


Wellness visits by RN or APN
TESTIMONIALS:
"My Father's House has provided consistently attentive, affectionate and knowledgeable care for my mother in more than 2 years she has resided there. The surroundings are comfortable and well-kept, the caretakers cheerful and kind, and cooperate in keeping me informed about her well-being". ...Carol R. Dee
"I'm so grateful for My Father's House. Putting a loved one in an assisted living facility can be very difficult. Thankfully I'd found a place where my mother can call home. She is always clean, well fed and surrounded by others who love her. I'm also thankful for the support and relationship I have developed with caring staff. It's truly a blessing."
...Angie Peterkin
Please contact, Doddie Belino Davison
Phone: 907-334-3391
Cell: 907-227-3364

Fairbanks
Caring Bridges Assisted Living
(907) 479-0360 • 107 7th Ave • Fairbanks, AK 99701
Pioneers Home
(907) 456-4372 2221• EAGAN AVE • FAIRBANKS, AK
Haines
Haines Senior Assisted Living Center
Website
Did you know?: Haines has the highest growth rate of seniors per capita in the state.
Homer
Friendship Terrace Assisted Living Residence
"At Friendship Terrace (Assisted Living Residence), our goal is to help each resident stay healthy, functional and in charge of their physical, emotional and spiritual well-being"

(907)-235-7655 • Homer Senior Citizens, Inc • 3935 Svedlund • Homer, Alaska 99603

Loving Care
The Ark of Homer is a licensed six bed facility providing that "extra care" to early - moderate Alzheimer's and Dementia clients. With a staffing ratio of 1 CNA/Care Provider to 3 residents in a loving, home atmosphere, you can rest assured that your parents, loved ones, are well taken care of. Laura Lee Owens, RN, Administrator is on staff for medication, nursing issues and with over 20 years of nursing experience she promotes staff education and training in Dementias.
Laura Lee
lee@thearkofhomer.com
Homer
Blueberry Lodge Assisted Living
(907) 463-5886 • 9436 N Douglas Hwy • Juneau, AK 99801
Haven Park Assisted Living
(907) 780-3567 • 3181 Indian Cove Dr • Juneau, AK 99801

Wildflower Cort
At Wildflower Court we believe that each resident deserves the respect, affection and attention we would want for ourselves. It is the Golden Rule in practice each and every day.
(907) 463-8700 • 2000 SALMON CREEK LN • JUNEAU, AK
Kenai
Pathway's Assisted Living Home
(907) 776-3951 • Kenai, AK 99611
Kodiak
Bayview Terrace Assisted Living
'Bayview Terrace is a non-medical facility with the capacity to provide 24/7 care assistance, and a comfortable home for 15 residents'
309 Erskine Ave.
Kodiak, AK 99615
www.bayviewkodiak.com
North Pole
Lane's Arctic Hearth Assisted Living
(907) 488-9159 • 109 E 5th Ave • North Pole, AK 99705
LILLEY LODGE - QUAINT PERSONALIZED 24 HOUR CARE
Lilley Lodge provides 24 hr. supervision, assistance with ADL's, medication assistance, medical care coordination along with a variety of other services to bring you the highest level of independent functioning in a safe setting. Long term-short term residency, respite relief residency and hospice are available.
TerryAnn

Seward
Clearview Haven Assisted Living Home
(907) 224-5220 • 201 Bear Dr. • Seward, AK
Senior Center
336 Third Ave
Seward, AK 99664
(907) 224-5604
Wasilla
Knik Manor Assisted Living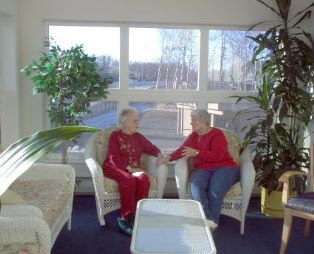 Services, amenities and things you need to know about Knik Manor:


Acceptance into Knik Manor Assisted Living is determined by apartment availability and resident needs. Each resident must have the ability to evacuate the building by walking down the stairs.


Must be 62 years of age or older.


This is a smoke-free building.


24 hour staff


Skilled nursing is not provided


Please ask about income requirements

Please contact us at (907) 376-3104

Original Video Tips and Tutorials by Assisted Living Directory
[Video] Assisted Living Directory Original Tip and Tutorial
Creating a video for your assisted living facility can be a great way to help further promote your facility and widen the reach of your marketing efforts. However, there is a big difference between a professional looking and unique video and a poor-quality, amaterur-ish looking effort. One of the ways you can enhance your facility's video is by using a slider to create a dynamic sense of movement. In this video tutorial, we talk about how to use a slider, and we've included a few examples where we have used one.

Video Produced by Assisted Living Directory
Still Need Help? Let Our Experience Work For You!
[Video Tutorial] How To Research Assisted Living in Alaska Using Trusted State Data

---

Video Tutorial Produced by Assisted Living Directory
In less than 2 minutes, you can learn where to find comprehensive State of Alaska-produced data and resources to help you find appropriate senior care in Alaska. We'll also point you to a thorough .pdf list of licsnsed facilities statewide! Learn More
***Get a comprehensive .pdf list of facilities - compiled from trusted state-of-Alaska data.